1 January 2017 | Singlefile Wines Blog | Tash McCarthy
Meet the Corbetts
Patrick and Pam Corbett are the co-owners of Singlefile Wines, with Patrick leading the way as CEO and Pam the driving force behind the running of the business. With two young children, both their lives are very full. Get to know more about the Corbetts by reading this Q&A.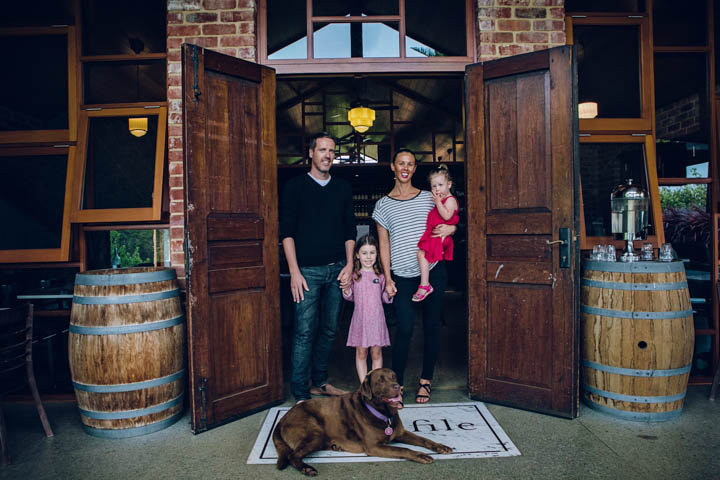 Q After careers in finance (Pat) and naturopathy (Pam), how did you end working up in winemaking and viticulture?
Wine picked us! We had been living in Italy where we learned to appreciate wine and on returning to Perth, Pam's parents were in the process of selling their business and considering a new project. When they mentioned they were looking at a small farm with a vineyard on it, we subtly (or perhaps not so subtly in retrospect) suggested if they bought the farm that we would help with the wine business. There wasn't a plan as such, just a number of conversations over many glasses of wine, where Singlefile was born.
Q Tell us your funniest wine story!
As many in the wine industry know, the longer you're in the industry, the more expensive your taste becomes! Of course to ensure we maintain our quality we need to 'benchmark' against the world's best – that's our excuse, anyway! From time to time we receive allocations of difficult-to-obtain wines. In one instance, Patrick had collected a couple of wines he asked Pam to bring down from Perth to Denmark as he was interstate. There was one really scarce bottle of Raveneau [from Chablis, in France] in the pack of six or so cases. When Patrick called Pam that evening, she mentioned they were enjoying one of the wines she had brought down and the more she described the wine and the label, the more Patrick became concerned. Sure enough, when she texted him the bottle shot she had somehow found the most rare wine and drunk it. She still tells Patrick it was very nice! Patrick now has a box of wines that Pam drinks when he isn't around and a 'Pam, Please Don't Touch' part of the cellar.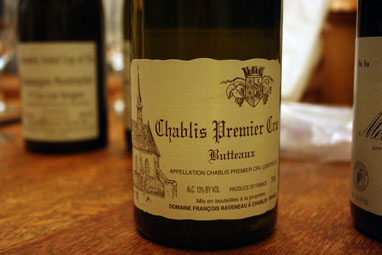 Q Have you always been passionate about wine?
The passion has grown with time. Once you have the bug, you're always interested in learning more and more. It's a fantastic industry to work in with many great characters. We are fortunate to be doing something we love. It's difficult to imagine doing anything else now.
Q How do you balance family life with living in Perth and so much travel?
The travel is difficult but as we are a family business it is within our control to manage how little or how much we do. While it's a challenge being away from family, it is also really inspiring meeting fans of our wines in different parts of Australia and the world – we export to the US, Japan and China now. If it's a long trip, we try to ensure we balance that with lots of family time on return. Our two girls love to visit the vineyard and stay with Granny and Grandad while we're working, so all in all we feel very privileged.
Q Which Singlefile wine takes pride of place on your dining table?
That's a really difficult question. It's like asking which is your favourite child. Also, our answer may well vary from time to time depending on the time of year, what we are eating and the like. It's probably a slightly different question but the wine we are most proud of is the Family Reserve Chardonnay – it was the standout wine from our first vintage and it wouldn't be an overstatement by saying it gave us the confidence to pursue our dream of building a serious wine business back in 2008.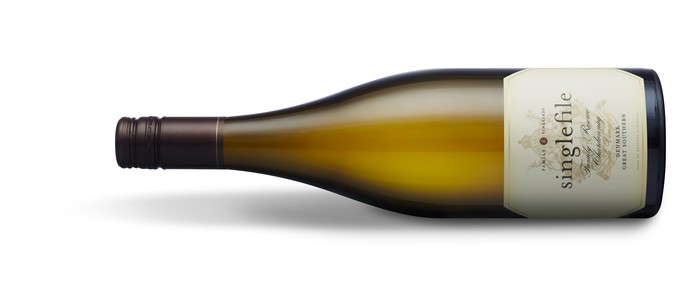 Q What makes Singlefile Wines stand out from the rest?
That feels like a question for others to answer. From our point of view we believe that paying attention to the finer detail is what ultimately ensures we produce high-quality wines. We take a lot of pride when our customers notice.
Q Outside of wine and Singlefile, what keeps you busy and feeds your soul?
We have two beautiful girls, Maya (7) and Georgie (5), who keep us extremely busy and when we're not spending time with them, Pam is completing her yoga teacher training, which involves lots of yoga practice. We also have a dog Leila, who likes a daily walk.
Q If you could drink any wine right now, what would it be?
We opened a bottle of Domaine A Lady A recently – it's a bottle-aged 100% barrel fermented Sauvignon Blanc. It has opened our eyes to how good Australian Sauvignon Blanc can be. We did a camper van trip around Tasmania with the girls a few years ago and visited Domaine A's cellar door. We loved this wine when we tried it then, and trying it now brings back fond memories.
Q What are your favourite varieties to drink?
For Pam it is Riesling and Chardonnay; for Patrick it's Chardonnay and Cabernet Sauvignon.
Q Apart from Singlefile, which other wineries do you most respect?
We often put European wines on a pedestal because of their history, prestige and price. But in many blind tastings, Australian wines compete on quality at a fraction of the price. The list of our favourite wineries is long. But here's an Australian taster: Picardy, By Farr, Domaine A, Larry Cherubino and Pierro.
Q What do you see happening for Singlefile in 2017?
Our focus doesn't really change year to year. It is always to make the best wines we can and that means focusing on the little things. We launched our wine club in 2016 and have been receiving great feedback. We hope to hold more events around Australia in 2017. We are extremely fortunate to have a loyal and dedicated team who continue to help us turn our vision into reality. It's early to be definitive, but things are looking promising in the vineyard for a good 2017 vintage.