Delivery
Singlefile Wines covers Australia coast to coast.
Fast and cost effective delivery of your order is important to us. The following information will give you an excellent guide to our delivery procedures:
How Fast Are We?
As soon as we receive your order it will be processed and as soon as payment is confirmed we will package and ship the goods to you using one of our delivery services. We check for orders regularly during the day and night and we are notified as soon as your order is placed.
Orders placed on Saturdays or Sundays may be processed on these days but are generally processed first thing Monday morning.
How Much Does it Cost?
Postage & packing is calculated at the checkout stage of the purchase and will be displayed to you before you send your order.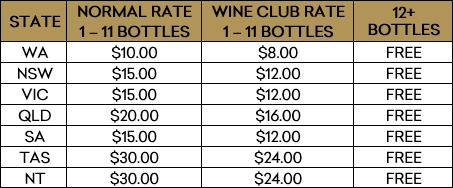 Under these circumstances we reserve the right to not proceed with the order. Instead we will contact you and inform you of the actual cost and give you the option of proceeding with the revised delivery charges, or canceling your order.
While we make every effort within reason to ensure that this calculation is accurate under certain circumstances the postage cost calculated may be in error and not cover the real delivery costs.
For more information on our delivery policy, please contact us.
Packaging Options
We offer a number of packaging options. You can choose an appropriate packaging option during the checkout process. A gift card is included with all wrapping options, and space is provided for you to enter a message as you checkout.
Gift Wrapping: Your wine bottle will be wrapped in high-quality tissue paper. Sent in an Australia Post 'Post Pack'.
X-mas Wrapping: Your wine bottle will be be wrapped in high-quality tissue paper and Christmas wrapped. Sent in an Australia Post 'Post Pack'.
Please contact us if this service is required for 6 or more bottles.