Great Southern Regional Approach
Singlefile's dedication to making exceptional wines is paralleled by its commitment to the Great Southern region. It's as large as it is diverse. Its geography is a patchwork of coastal maritime land, gently undulating hills, open grazing country, eucalypt forests and granite outcrops. A true liquorice all-sorts of land girt by sea. And this variety is what makes the Great Southern so convincing as a supreme winemaking region. To read more about the Great Southern's viticultural history click here.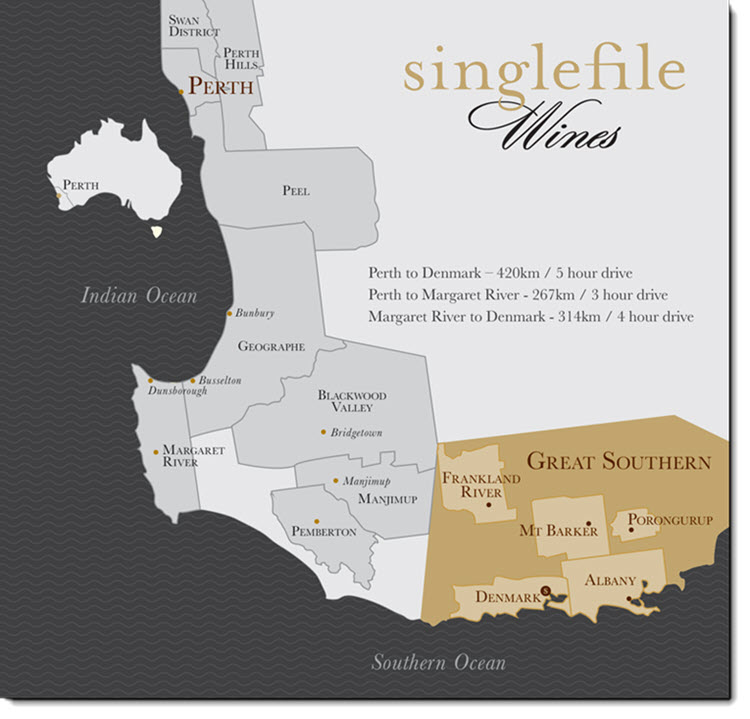 Enter Singlefile Wines. Line them up, one by one, and each wine will tell a story of the place from which it comes. Singlefile shapes three tiers of Chardonnays from its estate vineyard in Denmark, but it also makes wines from carefully selected sites throughout the Great Southern, bringing varieties to life in their happiest subregional locations.
Since its first vintage in 2008, Singlefile has been establishing relationships with growers all over the Great Southern, guided by wine luminary Larry Cherubino to select sites and varieties of the utmost excellence. Let's take a tour of the Great Southern and dip into each of its regions.