The Singlefile Wine Club
At Singlefile our desire is to craft wines at the top of their game. It's something that is manifest in our Latin motto – Semper Superne Nitens, which translates to "the pursuit of excellence". We may be small in number, but our team dreams big. As our dreams come to fruition, the availability of our wines diminishes. Our intention has always been to indulge the desire of Singlefile's most loyal friends. And now we can appease that demand with the launch of The Singlefile Wine Club. We're thrilled to be able to offer three tiers of our Wine Club, and invite you into the Singlefile family. As is the case with exclusive group memberships, belonging comes with many benefits.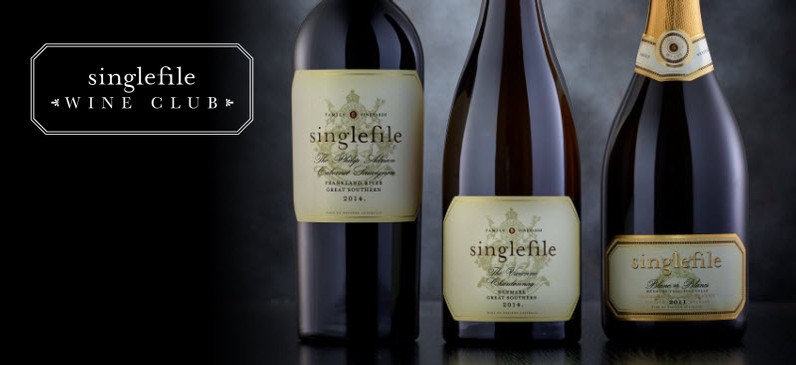 Here's how the wine club works:
The Singlefile Wine Club is partitioned into three groups: The Collector, The Appreciator and The Discovery Club. Members of our clubs receive a discount on all Singlefile wine purchases, free shipping on club packs and exclusive access to wines made in limited quantities.
Members will also be the first to hear about Singlefile's latest releases, limited wines and exclusive events. As a member of The Singlefile Wine Club, you will have access to a personalised concierge service when visiting our glorious Great Southern region to help plan your trip and ensure you discover the hidden treasures of the region. We'll book your accommodation, activities and restaurants, and the Singlefile team will provide gold-class hospitality to ensure your time in the Great Southern is unforgettable.
Cancel at any time
It's worth mentioning that you're not locked in – members have the option to cancel or suspend their subscription at any time. And you can also give a subscription wine pack from your membership as a gift to family and friends.
Singlefile is acutely selective about the parcels of wine that we make. We only make wines that we believe in – that's what embodies our pursuit of excellence. And what makes us even more gratified is the knowledge that our most precious wines will find a home in the cellars and on the tables of those who appreciate them the most.

THREE TIERS OF MEMBERSHIP
Take your pick between the three tiers of membership in The Singlefile Wine Club:
THE COLLECTOR
This club is for the wine enthusiasts who see the potential in each and every drop, and take joy in watching the alchemy of their favourite wines ageing in the confines of their own cellar.
THE APPRECIATOR
This club is for the wine lovers who are confident in their wine choices and are keen to curate their own regular deliveries of their favourite Singlefile Wines.
THE DISCOVERY
This club is for the wine lovers who love unearthing wine treasure, delighting in the discovery of modern styles and interesting varieties. They may not have the space for a cellar but they enjoy regular access to great wines.