4 February 2020 | Singlefile Wines Blog | Viv Snowden
Wine and chocolate pairing on trend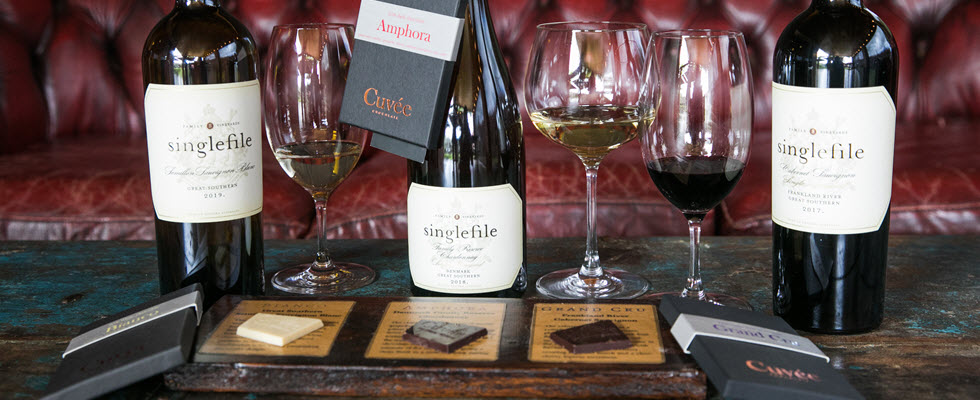 Our February 2018 blog on "Wine and Chocolate matching" wrote about the enthusiasm our team at Singlefile's cellar door felt about the benefits of chocolate and wine matching.
The chocolates we offer are produced with the explicit intention of being paired to wine. Like all the great marriages of the food and wine world, pairing wine to chocolate follows the principles of balancing flavour and palate weight by using the senses of sight, smell, touch and taste. A successful pairing enhances both the chocolate and the wine, creating a unique and memorable combination.
Wine and chocolate pairing comes of age
Two vintages later the rules are the same – buy the best artisan chocolate you can afford, find the unique wine companion for each chocolate (matching like-flavours or identifying pleasing contrasts) and marvel at how the wine and chocolate pairing enhances the taste experience. Most people can imagine that a fine quality Cabernet Sauvignon would pair nicely with a complementary 75% dark chocolate after dinner. But who would believe a creamy white chocolate would pair with a fresh and fruity Semillon Sauvignon Blanc? What a contrast! Another surprise, perhaps, is that an intense Chardonnay would be perfectly suited to a 65% dark chocolate. Memorable matches could result from trial and error pairings – surprise yourself!
In early 2019, Gourmet Traveller Wine Magazine's band of wine experts revealed their favourite regions, cellar doors, watering holes and the most rewarding vinous exploits the world has to offer. From tasting in the Napa, to visiting La Cité du Vin to exploring the Grampians by chopper, the list was enough to make any wine lover want to call a travel agent and start booking their next trip. So, we were absolutely delighted to see Singlefile make the Top 50, one of only 12 wineries in the world featured, with our Coco d'Vino chocolate and wine pairing as well as our sister company Stash Coffee each getting a mention.
Coco d'Vino offers three amazing chocolates from Cuvee Chocolate founded by Chocolatier and Wine Connoisseur Deniz Caraca. and his wife Kylie in Melbourne. Deniz blends high-quality cocoa beans sourced from select regions around the world according to their terrain, climate and altitude, including Java, Peru and Africa. Deniz's focus is to ensure his chocolates complement Australia's finest wines. And sceptics would be amazed at the remarkable taste sensations these marriages can create.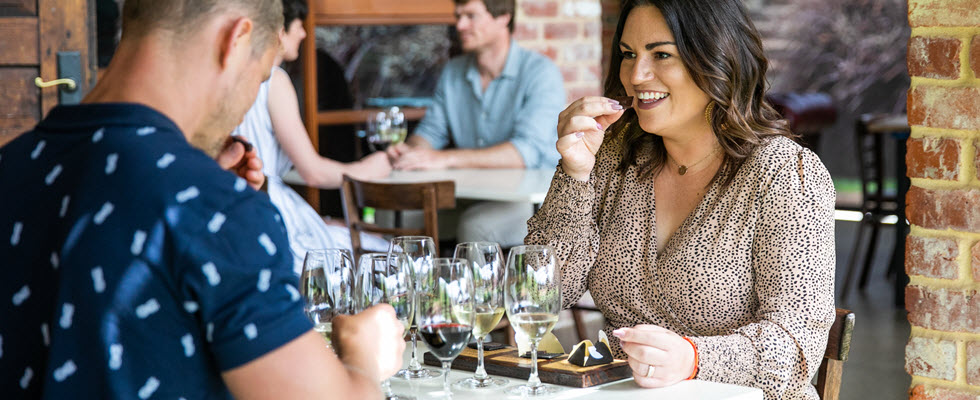 Deniz and Kylie will present a Masterclass version of the Coco d'Vino Wine and Chocolate Tasting Experience on 5th April 2020 at the Singlefile Cellar Door during Taste Great Southern.

There will be tasting, tempering and talking all things chocolate and wine. Learn some tips, train your palate, and enjoy the flavour. We can't wait to actually meet Deniz and Kylie at last, having collaborated remotely with each other for the past three years.
Wine and chocolate travel experiences
Wine travel has always been on the cards for me. Now I seem to be focused on wine and chocolate experiences and have noticed with increasing interest that there is an international trend.
The Waterford Wine and Chocolate Experience in Stellenbosch, South Africa pairs flavoured chocolates – a masala chai dark chocolate with Shiraz, a rock salt dark chocolate with Cabernet Sauvignon and a rose geranium milk chocolate with a sweet wine.
Several Napa Valley wineries offer pairings with wine and chocolate, for example Rutherford Ranch Winery offers guests a wine and chocolate experience that introduces your taste buds to a cascade of complex flavours and profiles, such as lemon-infused white chocolate with Chardonnay or Port paired with dark chocolate spiced with chilli pepper and sea salt.
How about a private wine and chocolate tasting experience in the City of Light during a 2-hour tasting in Paris, where you experiment with a variety of combinations and discover the best pairing first-hand?
Spoiled for choice…planning my next trip!