12 February 2018 | Singlefile Wines Blog | Viv Snowden
Wine and Chocolate Matching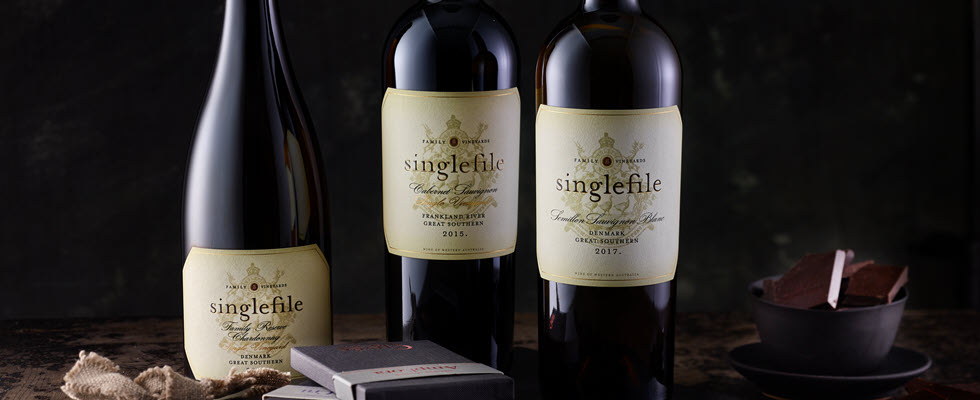 Chocolate and wine – it's not necessarily a go-to pairing in the world of food and wine. In fact historically, along with asparagus and sushi, chocolate has been thrown into the too-hard basket when it comes to finding a captivating wine match. But happily, chocolate connoisseurship has flourished over the last 10 years, which makes pairing artisan chocolate with premium wines a far more compelling consideration.
If you haven't already, it's worth trying high-grade chocolate for yourself. Compared to the average off-the-shelf supermarket product, good-quality chocolate is a taste sensation. It leaves your tastebuds feeling stimulated and invigorated, rather than waxy and grainy, sticking to the roof of your mouth leaving behind little or no aftertaste.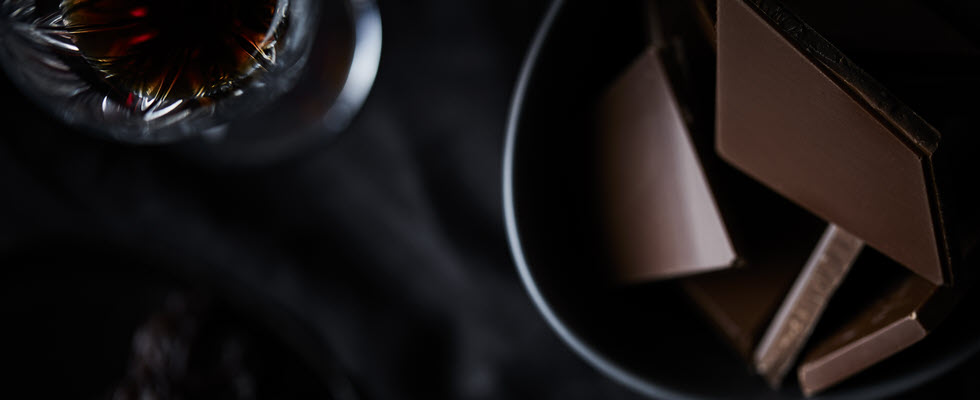 Take a look at gourmet food stores and you'll see good-quality chocolate produced all over the world. It's an industry that's flourishing due to the availability of single origin cocoa beans and producers who are keenly focused on the provenance of the beans and a far more sophisticated product compared to the pasty, overly sweet commercial product that's been flooding the market for years.
So when Singlefile's co-owner Viv Snowden came across a chocolate producer who crafts chocolates specifically made to be enjoyed with wine, she jumped at the opportunity to introduce Singlefile's cellar door visitors to the alchemy of chocolate and wine matching. "I found an affinity between single origin chocolates and single origin wines in that they both express their terroir in terms of recognisable taste profiles. Cuvée Chocolates are made specifically to pair with wine. Plus, they are beautifully made and packaged. After tasting all of our wines with each of the chocolates we found natural, and indeed amazing, affinities between certain pairings."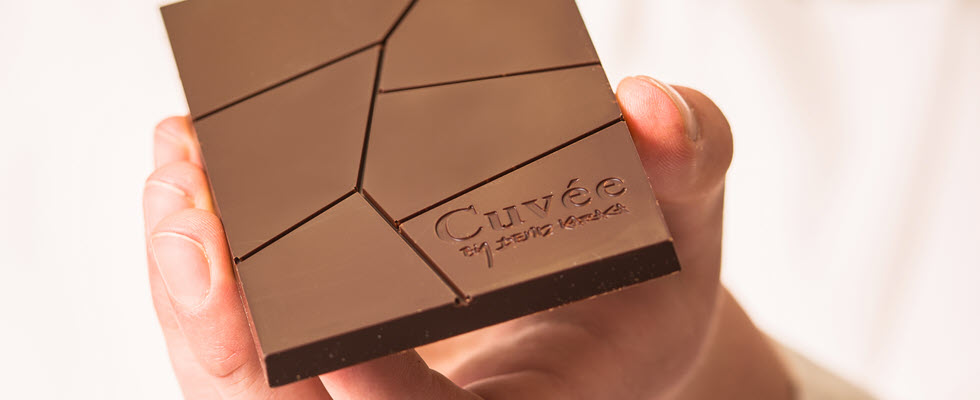 Deniz Karaca is the brainchild behind the chocolates Singlefile serves at its cellar door. He blends high-quality cocoa beans sourced from select regions around the world according to their terrain, climate and altitude, including Java, Peru and Africa. Deniz's focus is to ensure his chocolates stand up to Australia's finest wines. And sceptics would be amazed at the remarkable taste sensations these marriages can create.
What's even more surprising is the most popular pairing at Singlefile's cellar door is the Single Vineyard Denmark Family Reserve Chardonnay with the Cuvée 65% Dark Chocolate. The intention of all the pairings, which feature white, dark and milk varieties, is to ameliorate the taste experience of the wine and the chocolate. And contrary to the popular belief that red wines work best with chocolate, it's the white wines that shine in their chocolate pairings. Singlefile's tasting line-up called Coco d'Vino includes a Semillon Sauvignon Blanc, Pinot Gris, Chardonnay and Cabernet Sauvignon – a tasting flight of these four wines matched to their chocolate partners costs $15 per person.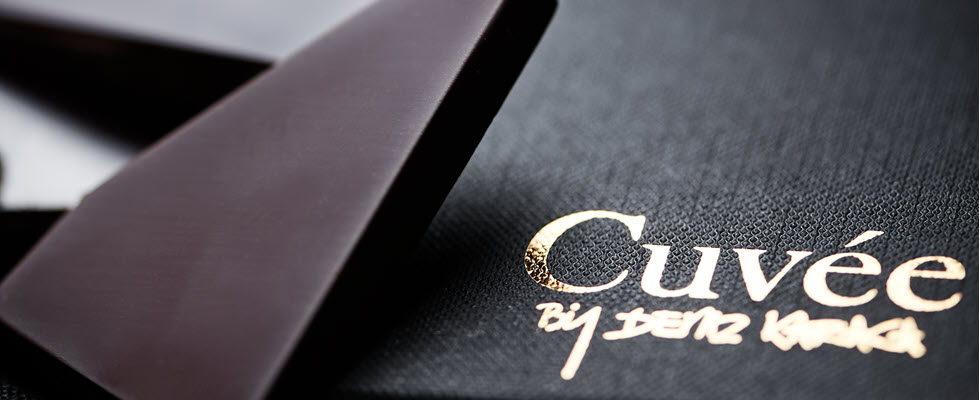 Top 5 Chocolate & Wine Matching Tips
If you'd like to experience the joy of tasting chocolate and wine at home, be guided by these tips:
1. Splurge on the best artisan chocolate you can afford. With chocolate, the cliché is true – you get what you pay for. You're trying to create a truly outstanding taste sensation, so ensuring you have high-grade chocolate that's silky in texture and rich in flavour will create an even better pairing.
2. Splurge on wine, too! Single vineyard or single origin provenance is the way to go, as you'll be able to identify and compare unique flavour characteristics in the wine with the unique flavour characteristics of the chocolate.
3. Don't rule out coupling white chocolate with wine. Singlefile's pairing of the Cuvée 30% White Chocolate with its Great Southern Semillon Sauvignon Blanc is sublime, with the creaminess of the vanilla bean flavour in the chocolate enhancing the perfume in the wine. The taste experience can be described as a "passionfruit cheesecake delight".
4. When pairing a chocolate that's infused with other flavours, consider matching that added component to wine that displays that same flavour. Dark chocolate with mint would work nicely with a Cabernet Sauvignon that displays a mint or eucalyptus characteristic.
5. Experiment! The most memorable matches result from trial and error pairings – when Singlefile's team tasted its wines with the Cuvée chocolates, it was astounding how many surprising favourable matches were made, such as Chardonnay with 65% Dark Chocolate. So go ahead and make your own pairings. As they say, Life is like a box of chocolates… you never know what you're gonna get.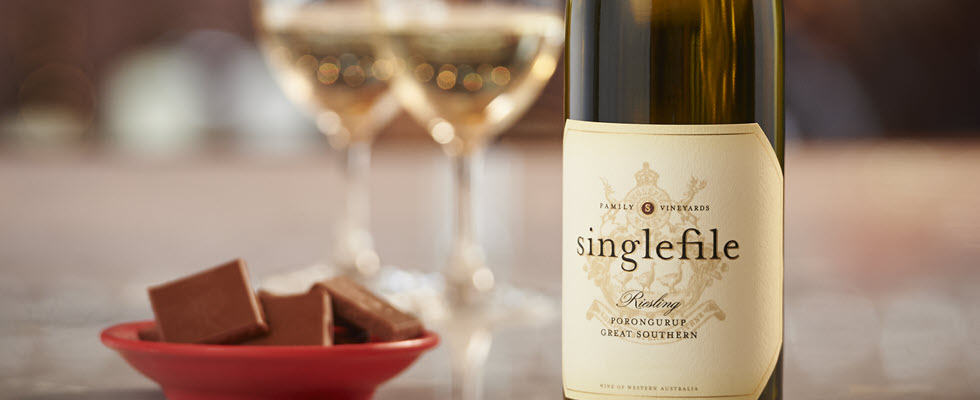 Images 2, 3 and 4 courtesy of Cuvee Chocolate.