12 December 2015 | Singlefile Wines Blog | Viv Snowden
Viv Snowden's Sparkling Romance
Here, Viv tells the tale of how Singlefile's Blanc de Blancs Sparkling came to life over a period of five years.
When we first bought our vineyard property [Singlefile], I began to record all the harvest details in my "The Ladies' Flower Garden" diary that was a gift from my sister, Paula.
The property was originally named Scotsdale Valley Estate but we changed this to Singlefile Wines to reflect the symbolism of the geese walking in single file. They had a dramatic impact on us when we started pruning the lower chardonnay in the winter of 2007, before we even had a home here (John and Jean, our family on the adjacent farm, looked after us for at least two months while we waited for final settlement). Every time we looked up to admire the late afternoon rainbows, we noticed the geese waddling down to the water in single file. They were beautiful, confident and calming. Somehow it made us feel grounded and at home. They were and had been so for many years before we arrived as newcomers.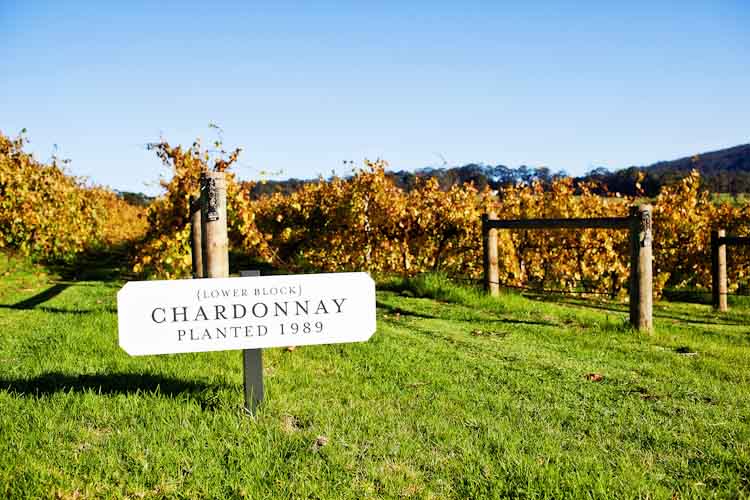 My diary shows us beginning to analyse the lower block (northern) Chardonnay from as early as 12 February 2010, when the berries were at Baume 8.5 [a measure of the sugar content in the unfermented grape juice], Total Acid (TA) 17.5 and pH 2.84. A week later the berries had ripened to a Baume of 9.4, TA of 14.2 and pH of 2.93. When we hand harvested nearly 2 tonnes from just over 2 rows at the lower end of the block on 28 February, we were delighted to hear from Mike Garland at Castelli Contract Crush that the fruit was perfect for sparkling at 11/11, which we later learned meant a Baume of 11 and TA of 11.
Mike was very excited that the acidity was still over 10, which was a good omen for the base wine and the eventual disgorging of what was predicted to be a great sparkling wine. We were excited that we had 1350 litres to begin the long patient journey towards our Singlefile Blanc de Blancs.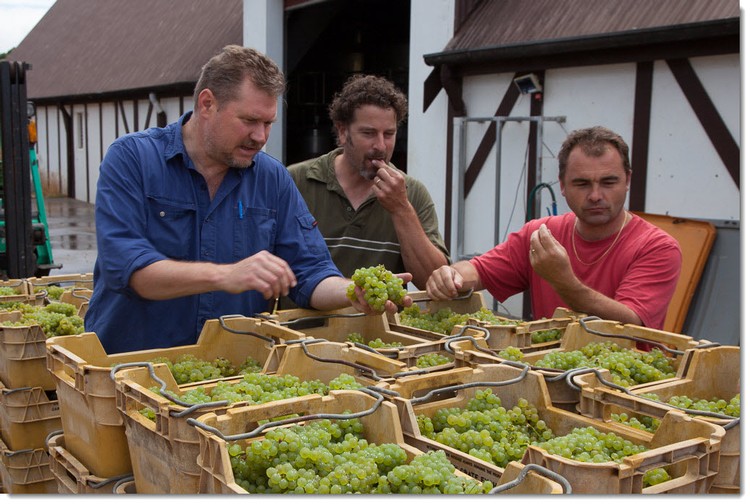 The wait has been tantalising. I recall at least two years ago declaring that "our sparkling must surely be ready by now". We had a sampling and, yes, it was delightful. "But", said Mike, "it will be great if you wait."
So, we waited another year and then, on our return from an inspiring trip to visit the Champagne region of France last year, we had another sampling. "Wow", I said, "this is definitely ready now!" We all agreed but thought it would only get better with more time. Eventually, we decided to try it at our wine appreciation group with the guidance of our very own local Vin de Champagne winner Wendy Wade.
This has finally given us the confidence to believe that our 2010 Blanc de Blancs is ready to reveal to our Singlefile family and friends. This grand lady is still fresh and bright thanks to the outstanding quality of the fruit but she has developed a maturity of flavour befitting the elegance of her genesis.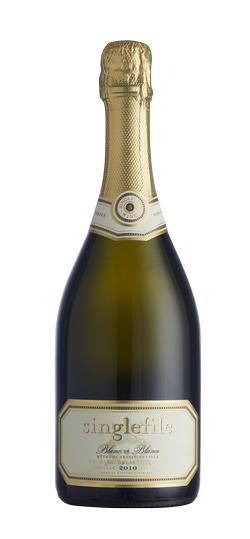 POSTSCRIPT
What is a Blanc de Blancs sparkling?
Blanc de blancs is a French term that translates literally to "white from whites". If a Champagne or sparkling wine exhibits this phrase, it means the wine has been made exclusively from Chardonnay grapes (with a few very rare exceptions). Most champagnes or sparkling wines are a blend of Pinot Noir, Pinor Meunier and Chardonnay but some say blanc de blancs are the finest, most delicate sparkling wines of them all.
Blanc de blancs sparkling wines are especially significant to Singlefile, as our viticultural efforts and winemaking success lie with the Chardonnay variety. This variety flourishes on our home turf, Great Southern's Denmark, and we thrive when given the task of crafting beautiful Chardonnay wines of all sensibilities and flavour profiles.
We hope you enjoy drinking our Blanc de Blancs as much as we've loved creating the wine.