6 January 2021 | Singlefile Wines Blog | Viv Snowden
The Story of Fumé Blanc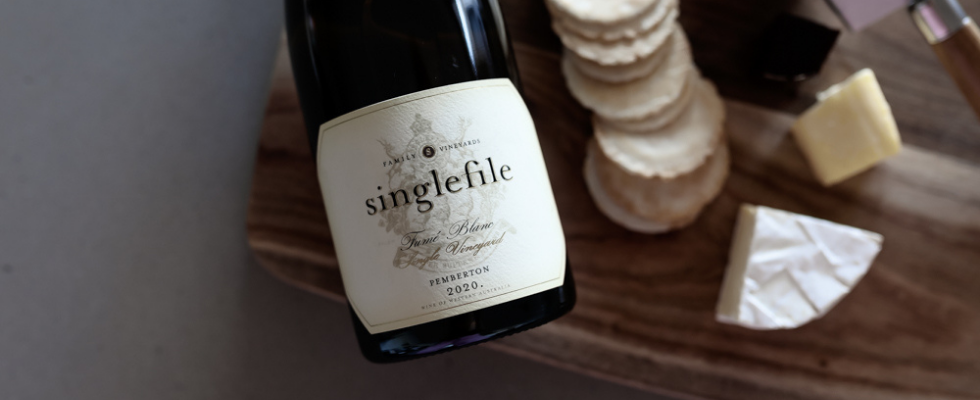 Max Allen (Financial Review, November 2020) "…a handful of other winemakers around the country have kept the smoky sauvignon style alive, particularly in Western Australia, often blended with Semillon (Singlefile's Fumé Blanc, from Denmark, is a particularly ravishing example)"
Introduction
What is a "smoky sauvignon style"? Singlefile's earliest Semillon Sauvignon Blanc wines were unoaked blends of Semillon and Sauvignon Blanc delivering a fresh dry aromatic wine. In addition to this traditional-style Singlefile now also produces Fumé Blanc which is "a smoky sauvignon style". This is achieved by fermenting a proportion of the fruit in oak barrels. The fruit used is usually Sauvignon Blanc, but in some vintages also includes Semillon.
The story of Fumé Blanc
Iconic USA winemaker Robert Mondavi coined the name Fumé Blanc in 1968 as a nod to the fame of the mineral-rich wines made from Sauvignon Blanc in the appellations of Sancerre and Pouilly Fumé in the Loire Valley of France, where they are known for having a slightly smoky perfume.

In the USA he used this name to distinguish an oak-aged Sauvignon Blanc, which is fermented and matured in barrel, to give it a rich, toasty, smoky character (fumé in French) compared with Sauvignon Blanc from the fruitier tank fermented style that was then popular in the USA. However, other winemakers confusingly also loosely applied the same name to unoaked Sauvignon Blanc.
Is it a French wine?
Fumé is French for "smoky", Blanc is French for "white" and Blanc Fumé is the name given to Sauvignon Blanc produced in the regions of Sancerre and Pouilly- Fumé in the Loire Valley of France. It has a natural "smoky" character (which is not due to oak barrel fermentation). Fumé Blanc is the American name for Sauvignon Blanc made with an oak influence to emulate the characteristics of Blanc Fumé.
What is Fumé Blanc in Australia?
Fumé Blanc is currently re-gaining popularity in Australia after falling out of favour after its hey-day in the 1980s. Some Australian producers explicitly label their oaked Sauvignon Blanc wines as Fumé Blanc yet others who make their Sauvignon Blanc with an oak influence, in a fumé style, fail to label it as such. Another source of confusion.
Another interesting trend to follow is, not only the use of oak barrels, but also fermenting Sauvignon Blanc grapes on skins to add further texture and complexity to the wine, resulting in so-called orange wines, the colour being derived from extended skin contact.
Fumé Blanc – a style not a variety
So Fumé Blanc is a style of wine rather than a grape variety. However a Sauvignon Blanc could be made in this style but not named Fumé Blanc. A Fumé Blanc is most often made from the Sauvignon Blanc variety, but not strictly so and it can be blended with Semillon. However, a Fumé Blanc in USA is not necessarily oak fermented. So the name can seem something of an enigma.
The key is to determine the grape varieties used and the details of the winemaking technique, rather than rely on the name of the wine in question.
Where is it made in Australia?
Australia's Sauvignon Blanc regions are cool climate wine regions which are suited to producing crisp, fresh, grassy Sauvignon Blanc for example the Great Southern, Adelaide Hills, Tasmania, Orange, Yarra Valley and Mornington Peninsula. Fumé Blanc is gradually becoming more widely made in these areas, with many of the wineries in the Great Southern now favouring this style.
Tasting characteristics and food pairing
Fumé Blanc has more body, texture and mouthfeel compared with unoaked Sauvignon Blanc which is more fruity and crisp on the palate. Both styles pair well with light foods such as salads and fish and spicy Asian food but Fumé Blanc is a stand-out with smoked shellfish or chicken.
The 2020 Singlefile Single Vineyard Fumé Blanc has subtle smokiness with complex aromas of straw and spice. The oak treatment adds elegance and texture to balance the underlying tropical fruit. It is a perfect style to pair with food.
Although still not well known amongst the wine loving public, Fumé Blanc is gaining a new following, nicely summarised by a review from one of Singlefile's customers, Anthony (30/9/20) "First time drinking Fume Blanc and happily pleased, in fact, loved it. Colour of light straw. Scents of peach and citrus (especially grapefruit) on the nose. Very slight acidity which helped break through our meal. Smooth and sweet aftertaste. After our first foray into Fume Blanc, we will certainly purchase again."