28 October 2020 | Viv Snowden
The Rosé Evolution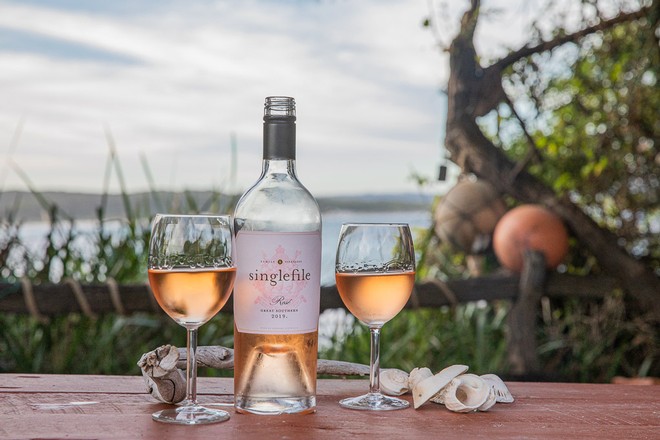 Rosé winemaking styles
According to Robert Geddes, in his book titled A good nose & great legs "Rosé is a pink wine that at its best combines the dryness and body of a red wine with the freshness of a white wine."
The French have been making and drinking Rosé as a predominant style of wine since the 19th Century. The rest of the world has been a little slow to catch up!
In France Rosé wines are made from red grapes following one of two different methods, firstly the Direct Press (Maceration) Method where the grapes, often grown and selected exclusively for Rosé production, are crushed and left to macerate (with skins) from between 2 and 24 hours. The longer the grape juice is in contact with the skins the darker pink the wine will be. Once the desired colour has been achieved, the winemaker will strain the juice from the solids (skins and seeds). The time taken to achieve the desired juice colour depends on the variety of red grape. This is the usual method for production of Rosé in Provence and Languedoc-Roussillon in France. Grapes are normally picked at lower Baume (sugar levels) to keep the alcohol levels down and maintain the acidity.
The second method is the Saignee Method (pronounced "sohn-yay") or Bleed Method, which involves running off 10 to 20% of the juice of red wine grapes at an early stage of maceration into a tank or barrel for fermentation. This often results in a more intensely flavoured Rosé which is darker in colour than wines produced using the Maceration Method. This style of Rosé, can be considered a less 'serious style ', being a by-product of red wine making where its primary function is to increase the concentration of red wines..
Inexpensive, pink and sweet
In the 1970's Californian producers started making "white" wine from red Zinfandel grapes via the Saignee Method leading to the category of "blush" wines, which were inexpensive, pink and sweet.
The leading Australian Rosé, Kaiser Stuhl, made 25 years ago was cheap, sweet and acidic (through the addition of sugar to balance the acid which was added to offset the high alcohol level of the Grenache) and very pink. It certainly missed the mark!
I am pretty sure that the first wine I ever tasted was a Rosé – more precisely Mateus Rosé. This was just one of three affordable wines found in the late 1960's – the other two went under the general names Lagosta (Portuguese) and Nederburg (South Africa). Mateus Rosé was a product of the Portuguese wine industry and was readily sourced through Portugal's then African colony of Mocambique.
It is difficult for wine lovers to know the difference between sweet and dry Rosé from the bottle. It is also difficult to know which winemaking technique was used. This may explain why the rest of the world has been slow to catch up!.
Rosé revolution
There are now thousands of brands in the market internationally and over a thousand producers in Australia where the Rosé market has exploded in the last five years. Today's Rosés are typically made to look bright, fresh and vibrant but deliver a dry savoury style built around texture and acidity rather than sugar and fruit. It's a perfect wine for warm spring and summer evenings and an ideal savoury wine to accompany lunch on the patio or the beach.
Colour is not an indicator of Rosé sweetness, but is simply derived from the skins of red grapes. Any red grape provides a suitable foundation although the Mediterranean varietals seems to be the most suitable. Rockford Alicante Bouschet is an iconic Rosé that is made from the Alicante Bouschet grape (a red fleshed grape variety).
My favourite international Rosé is from the Bandol Appellation in Provence, France. According to Robert Parker "the greatest Rosé in the world" is the 2019 vintage of Domaine Tempier's Bandol Rosé produced from the varietals Mourvedre, Grenache, Cinsault and Carignan. It is crystal clear with a salmon pink colour – typical of the dry, refreshing, savoury and pale pink Rosé of Provence. It is the wine against which we benchmark Singlefile Rosé.
The greatest consumption of Rosé in Australia is now by a younger demographic but it is gaining favour amongst all age groups and it is one of the fastest growth wine styles. Rosé fits in well to an unpretentious flexible lifestyle where it is light and easy to drink on social occasions, yet dry enough to enjoy with a meal, almost any meal, but most notably with spicy food with which it pairs so well (think Thai green chicken curry).
Singlefile Wines Great Southern Rosé
In 2019 Singlefile produced an experimental batch of Rosé that was released to members of Singlefile's wine clubs. The wine received positive reviews from wine critics and club members.
Huon Hooke described the 2019 vintage as "A stand-out rosé from the deep south of WA, which is light and charming, not simplistic but engaging, with an appetising dry finish. Floral, white-peachy aromas lead into a light-bodied but intense, crisp palate which has length and balance and superior drinkability". Nick Butler commented "Palest pink colour, young and vibrant. Minerals, pomegranate, and rhubarb – aromatics are subtle and savoury. A tease of citrus rind lurking. Red fruits on the palate are just ripe, complex and dry, a very well put together blend. Built for enjoyment now".
The 2020 Singlefile Great Southern Rosé is made using the Italian varietal of Sangiovese using the Direct Press (Maceration) method. Harvested on 19th February, the grapes were destemmed with approximately two hours of skin contact occurring prior to a gentle pressing. Following a slow cool fermentation, the wine was rested on its lees in a stainless steel tank for five months prior to preparation for bottling. It is a dry style.
The resulting wine is beautifully pale salmon pink in colour, a contemporary style of dry Rosé with delicate flavours of wild strawberries, sour cherries and spices. It is long in flavour and mouthfeel with delicate herbal elements. It provides a persistent, textural and dry finish. Best enjoyed chilled. Frequently!