2 September 2021 | Ian Fenech
'The Philip Adrian': Proudly Wearing the Cabernet Crown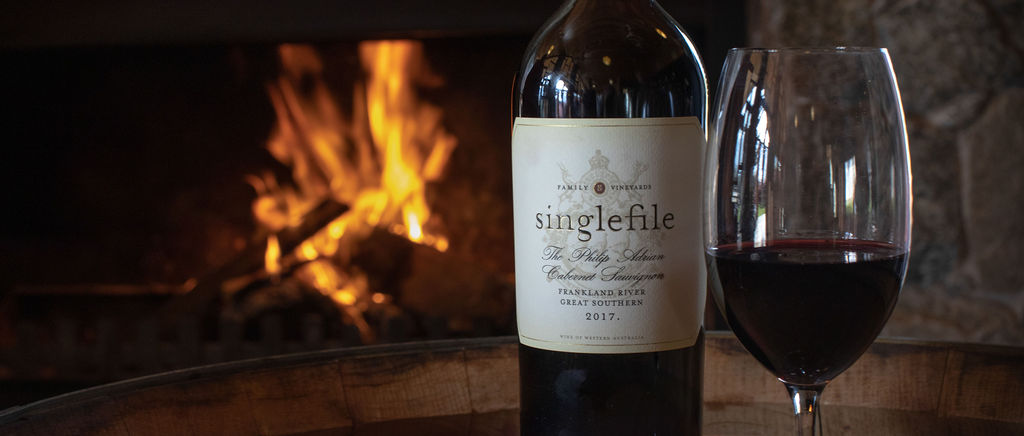 It's an all or nothing approach when it comes to Singlefile's 'The Philip Adrian' Cabernet Sauvignon.
Cabernet Sauvignon can be viewed as the brooding vinicultural personification of regal majesty, its image deeply etched into our collective wine consciousness. When finely crafted, Cabernet should be opulent yet elegant; bold, but also marked with nuanced complexity. As our flagship wine, and the proud bearer of these qualities, mediocrity is not an option. 'The Philip Adrian' will only be made when superb quality can be ensured.
It all starts at Riversdale Vineyard in Frankland River and the intersection of the vineyard's finest fruit with Singlefile's winemaking intentions. The site is situated 7km north-west of the Frankland River town centre. The soil there is a striking red gravel matrix overlying clay. The climate in Frankland River in general can be described as cool and continental, with potentially challenging hot summer conditions tempered by the welcome cool late afternoon breeze along the Frankland River valley. This climate supports a long consistent growing season, allowing the opportunity for good flavour development in this late-ripening varietal. Planted in 1997, these mature vines have been planted closely spaced and grow low to the ground. Stress is a key motivator, pushing the vines to respond with vigorous fruit production rather than foliage development. The vines are pruned for lower yields and bunches are thinned to "balance" the vine and also to reduce yields so as to produce fruit of a more concentrated and superior flavour.

Harvested fruit, now possessing heightened varietal attributes, can be pushed farther to extract the full extent of these flavours. From an extended cold soak through to a prolonged period of gentle maceration on skins, flavour, colour and complexity are enhanced. The resulting wine can handle the strong hand of French oak, with high proportions of the wine undergoing extended maturation in the best new Bordeaux barriques for up to fourteen months. What is most pleasing about this Frankland River Cabernet Sauvignon is the ability for it to drink well when young. Approachability in youth is a testament to the winemaking, but is also an inherent trait of Frankland River fruit and terroir. Nevertheless, 'The Philip Adrian' is held back a few years before release for further bottle development and will see its best after cellaring as we have invested in crafting it for the future.
Rich, complex and moreish, 'The Philip Adrian' has consistently garnered critical acclaim while appealing to collectors and casual appreciators of fine wines alike. The current 2017 release displays a ripe cassis soaked dark berry palate of beautiful texture and weight. Delicate notes of earthy spice are woven into the fabric as a subtle savoury foil to the wine's vibrant dark fruits. The return on our investment into new French oak is also clearly evident. Bottle aged, the wine is now showing the tertiary qualities of dusty baking spice, tobacco and cedar. The overall tannin framework is perfectly integrated, giving firm structure but with a refined subtlety, allowing for a fulfilling, flavoursome and satisfying finish.
Enjoy the wine now in a meaningful moment with the right company, or cellar to explore 'The Philip Adrian's' exciting potential to mature with grace and character.