19 January 2023 | Phil Snowden
The Bedford Story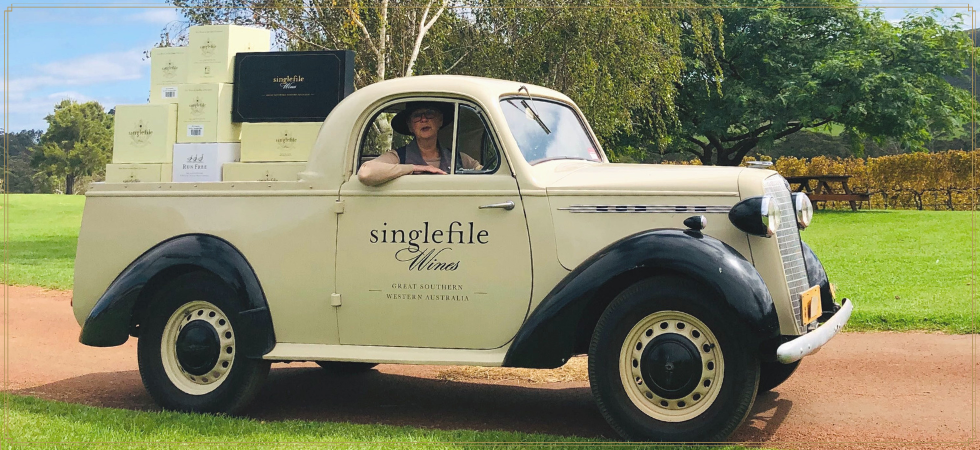 It was sometime in January 2019 when I first saw an image of Sam Neill's Two Paddock flatbed truck. It was pictured in a wine magazine and, to my eye, presented as an interesting marketing symbol for the Two Paddock brand.
Over an early morning cup of coffee in our Singlefile Cellar Door, I happened to express my positive view about the branding value of the 'flat-bed' – a vision that seemed to resonate with the others. And the topic du jour was left, or so I thought…
Fast forward six months to 5pm on 15 July when I returned to Singlefile after having been sent to assist a good friend with some inane task. Upon arrival I could see a large group gathered around a picnic table; not an uncommon event at the Cellar Door, but having a vehicle parked on the lawn next to the table definitely was unusual.
Well, the vehicle was a 1937 Bedford Ute and all those congregated were family and friends who proceeded to sing Happy Birthday – the ute was a 70th birthday present from my family. Our daughter, Nina, had located the ute online via Gumtree, purchased it and arranged for it to be transported to Perth, where our son-in-law, Brad, surreptitiously collected it and hid it in his shed. After a visit to the local mechanic, Colin, for a check-up and service, it was secretly brought to Singlefile on the back of a tray truck before being revealed to me, the proud new owner.
It was in need of further expert mechanical attention, particularly in the brakes department. When the Bedford did fire up, the engine purred.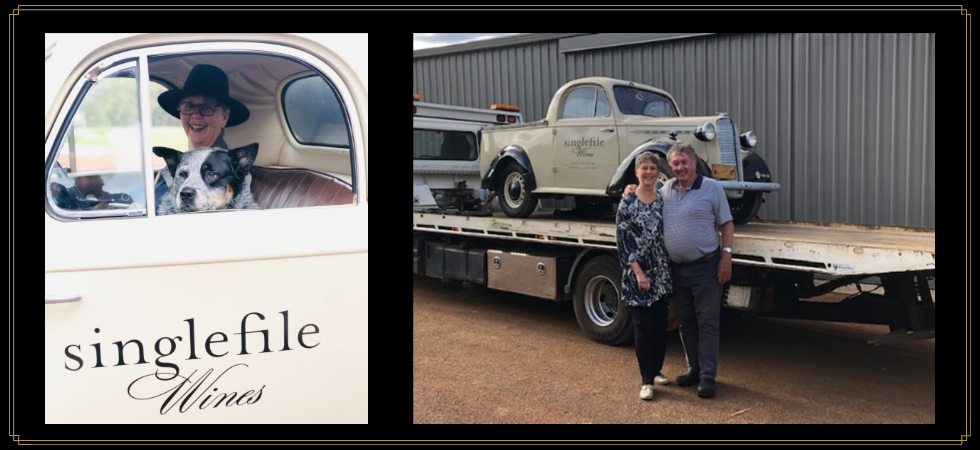 So now we had our version of the Two Paddock flatbed which we christened 'Pinot' – and she was duly adorned with the Singlefile livery on both doors. From time to time (on busy trading days) Pinot was moved from the shed to the car park for the interest of visitors to Singlefile. Pinot was doing what she was meant to do – being photographed, with the photos finding their way to social media platforms and the Singlefile brand paraded far and wide.
We had no concept just how widely the images of Pinot would travel! But the effectiveness of the image came into sharp focus after just 2 or 3 months when the Cellar Door received a phone call from Mildura on the Victoria / New South Wales border, asking if we were in possession of a vintage Bedford Ute. Ian, who took the call, was taken aback and directed the caller to phone the owners. The caller (Kevin) immediately did so and introduced himself to Viv.
Well, to put it bluntly, the call took Viv's breath away. By the end of it, we knew (or certainly I knew) that Pinot's life at Singlefile was on borrowed time.
The story that unfolded during that phone call was compelling and quite emotional. Kevin and his wife, Margie, had been searching for the Bedford Ute for some 5 years. Kevin had an intense desire to find the ute that his grandfather had purchased new in 1937. The ute was given to Kevin's father who drove it for many years on the family farm located 100km north of the New South Wales town of Hay located on the main highway between Mildura and Wagga Wagga and about 250km north of the Murray River town of Echuca.
It was during Kevin's father's farm clearance sale that the ute (which was not intended for sale) was indeed knocked down to a car wrecker, loaded up and disappeared. At the time the ute was sold, Kevin was distracted elsewhere on the farm preparing items for auction. For Kevin the decrepit old ute, which was no longer in running order, was a valuable family heirloom that he had intended to restore to its former glory once he retired from his full-time motor mechanic career.
In the meantime, the ute was purchased from the wrecker by motor enthusiasts in the Victorian town of Echuca who lovingly restored the vehicle to 'car show' standard. Once restored, the ute was on-sold and after a few years was offered for sale online, when it was purchased by Nina.
From their home in Mildura, Margie and Kevin were focused and determined in their search for the Bedford ute. They had to assume it still existed but had no idea where it might be located. Margie asked all their relatives and friends to keep an eye out.
In 2019 they had a breakthrough – they heard via the car show circuit that there was a restored Bedford ute in Echuca. They eventually found the owner, only to be told that the vehicle had been sold and shipped three months earlier to a West Australian buyer, but the name of the new owner was not revealed.
Armed with the knowledge that the Bedford was in WA, all family and friends were asked to once again be ever vigilant of social media platforms. And once again, there was success! A relative of Margie's spotted a vintage ute with Singlefile livery on social media. The photo was taken at the Denmark WA Classic Car Show, and that photo initiated the phone call to the Singlefile Cellar Door.

Siblings Lorraine and Kevin with Betty the Bedford, Margie in the driver's seat in Mildura, Betty up on Kevin's hoist.

Kevin and Margie let us know that it was their intention to visit Pinot at the very earliest opportunity, but this was delayed by COVID. It was not until late August 2022 that Kevin and Margie arrived to visit us in Denmark to be reunited at last with their family heirloom. Pinot left her shed on 4 October 2022 and arrived safely in Mildura on 10 October (thanks to the good care of the same driver who had delivered Pinot to Singlefile a few years before). Kevin and Margie renamed Pinot to 'Betty'. Kevin's car hoist was waiting to receive Betty and Kevin has spent many hours working on her. We are pleased to report he has fixed her brakes! We salute them both for their passion, dedication, generosity and for our newly found friendship.