20 January 2022 | Claire Bateman
The Basics of Food & Wine Pairing
The perfect wine and food match can elevate a simple meal into something very special. Choosing the wines for your dinner party can be a little intimidating, but there are some basic rules to follow that can help you create great matches at home.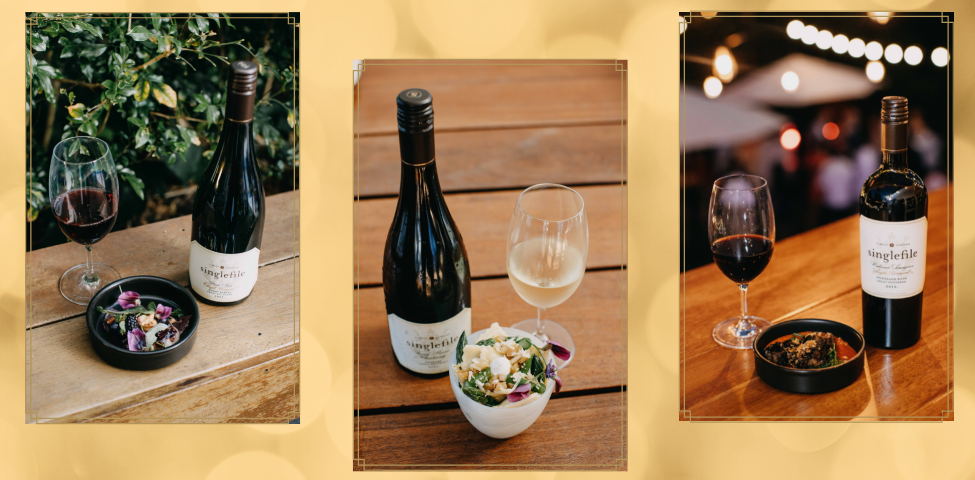 When matching food and wine, there are two ways to approach it: a complementary pairing, or a congruent pairing. A complementary pairing helps to balance the flavours in a dish by harnessing contrasting flavours such as matching a rich, oozing cheese dish with a wine with natural acidity - similar to eating a slice of tart apple with cheese. A congruent pairing seeks to elevate or echo the flavours in the food by matching to a wine with a similar flavour profile, like a creamy pasta dish or risotto paired with a buttery Chardonnay.
From there, consider the meal as a whole; whether it is heavy or light, and if there is a sauce or main flavour that ties the dish together. A Coq au Vin with its rich, silky sauce will require an entirely different wine to a fresh, crisp Caesar Salad, even though the protein in both dishes is chicken. You will find success pairing food and wine by 'weight'. Heavy, rich dishes need a robust wine to stand up to them, while a lighter meal requires a more delicate wine that won't overwhelm the flavours in the dish. As a rule of thumb, white wines and light-bodied reds are the most versatile and food-friendly wines, while heavier red wines need rich, meaty dishes to match so that neither fades in comparison to the other.
Pinning down the flavour characters in your meal allows you to create a harmonious match. For example, the earthiness and spice of a Pinot Noir marry well with similar qualities in mushroom dishes and game meats, while minerality and acidity found in a dry cool-climate Riesling mirror the same flavours in fresh oysters served with a cheek of lemon.

Consider the wine's acidity carefully. Generally, you want your wine to be more acidic than the food it is served with so that it can cleanse the palate, while the wine's acidity is softened by the qualities of the food. If the meal is more acidic than the wine, it results in the wine appearing 'thin' and weak. High acidity wines generally clash with very creamy dishes.
It is also important to be aware of the tannins in wine when matching with food. When pairing meals to a wine with high tannins, such as Cabernet Sauvignon, strongly flavoured hard cheeses and rich, fatty dishes serve to soften the astringent mouthfeel associated with tannins, while the charred flavour from barbecued meats also marries well with high tannin wines. However, when paired with light vegetarian dishes, spicy or sweet foods, the bitter qualities of tannins become more pronounced and can make the wine appear to have 'off' flavours.
The best thing about matching food and wine is that there are no hard and fast rules: you are only limited by your own preferences and creativity. If you have a special bottle of wine to open, start with these basic guidelines to find a lovely recipe to pair with it, but feel free to experiment and have fun!