5 November 2016 | Singlefile Wines Blog | Viv Snowden
Sparkling wine and food pairing – all the tips and tricks!
Can you hear that? It's the sound of corks popping at parties all over our wide brown festive land. In case you haven't realised, it's merrymaking season. Whether it's end-of-year office dos or festive celebrations, sparkling wines are tasting so damn good right now, especially as the warmer weather kicks in.
One of the special wines in Singlefile's Limited Release Collection is the 2010 Blanc de Blancs sparkling. It's drinking beautifully on its own, but it's also teaming nicely with a wide variety of foods, from apéritif-style dishes to all kinds of fuller-bodied cuisines. Take a few tips from our food and sparkling wine guide below and enjoy all the tiny bubbles on your social calendar.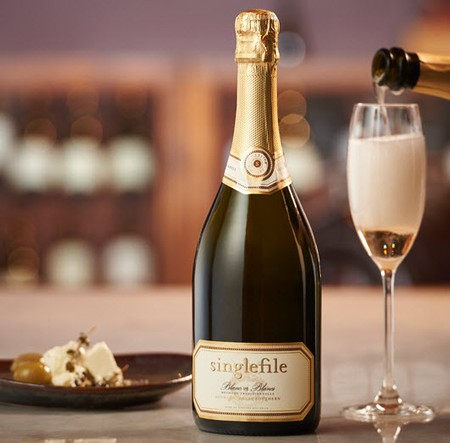 Sparkling wine and food 101
When asked which foods pair well with sparkling wine, the typical response from many experts involves the usual culprits, like oysters, shellfish, crustaceans, and smoked salmon with caviar or roe. But there's no need to put sparkling wine in a corner. It has much greater pairing capabilities than we give it credit for.
In the case of a blanc de blancs, which is a sparkling made entirely from Chardonnay grapes like Singlefile's 2010 sparkling, the wine will carry all those Chardonnay flavours – citrus, nougat, toasted brioche overlaid across a creamy texture. A wine with this level of creaminess and a vibrant acidity is crying out to be paired with a luscious triple cream brie. We can't go past the oyster, a blanc de blancs' spirit animal. Creamy, complex, mineral, fresh, refined acidity. All characteristics found in both the oyster and the wine.
Salmon, in all its guises, loves sparkling wine, especially those expressions that are rich and creamy. Try a glass of sparkling with poached salmon and a velvety potato salad. Scrambled eggs with crème fraîche and smoked salmon for a festive breakfast? Go for it.
And what about that ultimate comfort food of a crowd-pleaser – fish pie? Best friends with sparkling wine. Smoked cod, eggs, prawns, cream, nutmeg, buttery pastry? They're all pitch perfect for a sparkling. Try this recipe that features all those decadent ingredients.
And don't be afraid to pair sparkling with everyday dishes, like fish and chips. The crispy batter and fried edges of the chips are on song with the perkiness of the bubbles; the creaminess of the white-fleshed fish and the soft fluffy insides of the chips match the creaminess of a sparkles.
Let's talk about the left-of-field candidates. Sparkling rosés with a touch of sweetness from the berry-cherry flavours can punch through Japanese flavours in a pinch. Rosés with a bit of age, deeper in flavour (sometimes savoury) and richness, work beautifully with duck dishes.
Sparkling wines with a very fruit-forward flavour, often found in sparkling rosés and blanc de noirs (made entirely from Pinot Noir grapes), can match the power of spicy dishes. Experiment with Mexican, Cajun and South-East Asian dishes and you could fall upon a match made in epicurean heaven.
The classic "brut", typically found in many Champagnes, is a blend of Chardonnay and Pinot Noir. When this happens, the alchemy of the apple, pear and citrus Chardonnay flavours merging with the red berry and cherry from the Pinot Noir results in food-friendly perfection. This style of sparkling works wonders with charcuterie meats, seafood salads, truffle risotto, sashimi, fried chicken (yes, really!), seared scallops, beef carpaccio, yum cha.
So yes, cast a wider net when it comes to matching your sparkling to food, but keep a few basic rules top of mind for definitive success.
Keep away from extremes – sweet, salty, spicy, bitter. Despite its robust sensibility, sparkling is delicate at heart so don't dampen its flame with excess.
Not all sparkling wine is born equal. There are varying levels of sweetness and dryness, blends and straight varietals, and vintage and non-vintage (that's a whole other blog), so do a touch of research before attempting to curate the perfect marriage of flavours to ensure you're on the right track.
With all food and wine matches, the best pairings are discovered after experimentation, so although the safe option is to stick with your tried and true favourites, the even better combinations come with trial and error. Be brave, dear drinkers.
Cheers!
PS Singlefile's 2010 Blanc de Blancs has been released from the wine club coffers and is available for all Singlefile friends to purchase for a limited time only. You can read more about this grand lady's story here.