9 December 2021 | Christina Brown
Singlefile's 'Back Label' Music Playlists
Here at Singlefile, we obviously enjoy good wine and we know you do too. If you have visited our winery, you may have noticed we try to take care with our music selections at the Cellar Door to create the right atmosphere for your tasting experience.
Thanks to Spotify, we have found a way to bring our music selections to you to enjoy with our wines. Many Singlefile wines now have a carefully curated, one hour playlist to match.
Singlefile co-founder Patrick, who has an obsession with music, has been working on this project for a few years and we are finally ready to share our playlists with you. As you can imagine, given our range of wines there were quite a few playlists to prepare. Luckily, a few Singlefile team members have now passed their 'musical probation' and Patrick has been able to share the workload - Megan and Claire from the Perth office have been entrusted with some of the playlists created to appeal to a younger crowd!
We have tried to imagine the different scenarios where our wines may be enjoyed. Sparkling wine bottles pop and fizz at special occasions. Cooler weather can lead us to a glass of full-bodied red, such as Cabernet Sauvignon or Shiraz, enjoyed by the fire with rich seductive tunes. Dinners on a balmy summer night have us reaching for a chilled Riesling. A classic Chardonnay deserves only classic tunes, while a funky Pinot demands something more offbeat! Regardless of your reason for pouring a glass of wine, we hope these moments are enhanced with some great music.
HOW TO ENJOY OUR 'BACK LABEL' PLAYLISTS
Firstly, check the back of your wine bottle to see if it has a Spotify code on the label. Most of our current vintage wines do!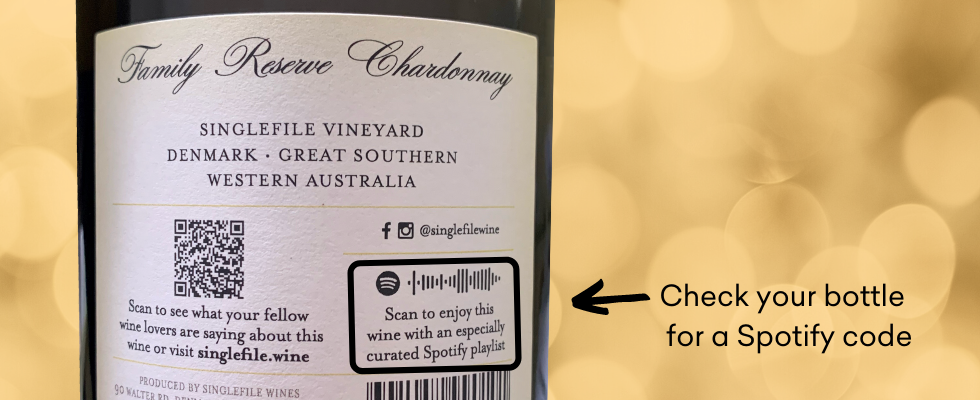 Step 1: Open the Spotify app on your device.
Step 2: At the bottom of the screen, click on the 'Search' button with a small magnifying glass icon.
Step 3: Click on the camera icon in the top right corner of the screen.
Step 4: Point your device's camera at the Spotify code on the back label of your Singlefile wine.
Step 5: When you hover your camera over the Spotify code, you will be automatically redirected to the playlist for your chosen wine.
Step 6: Open your bottle, press play, and enjoy!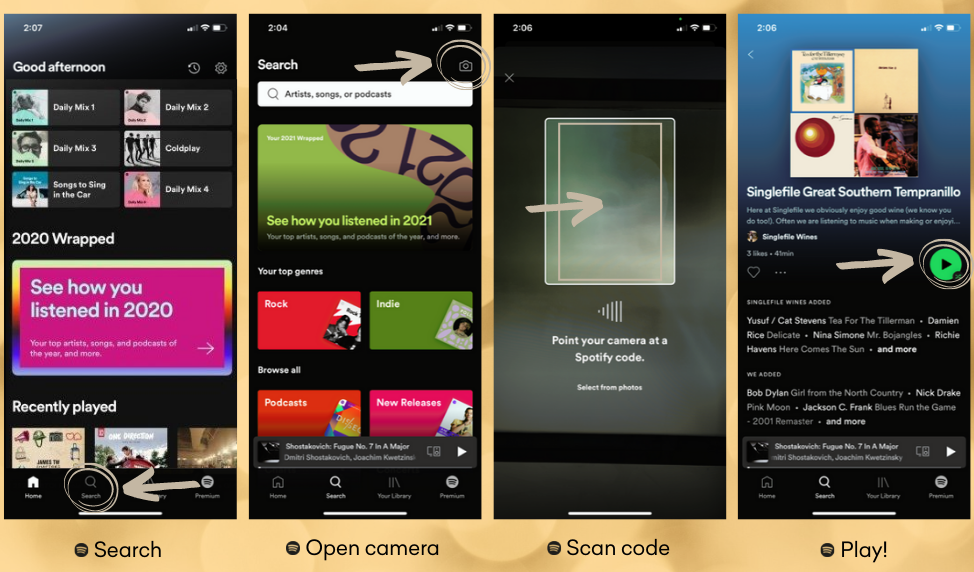 We would love to hear your feedback on our music selections and hope you discover some inspiring and enjoyable tunes while creating life's beautiful moments.