30 October 2015 | Singlefile Wines Blog | Alicia Russell
Singlefile's Festive Wine Tips
The festive season is fast approaching and as always along come the inevitable discussions about wine. Here are our top ten festive wine tips to make you appear like a wine expert.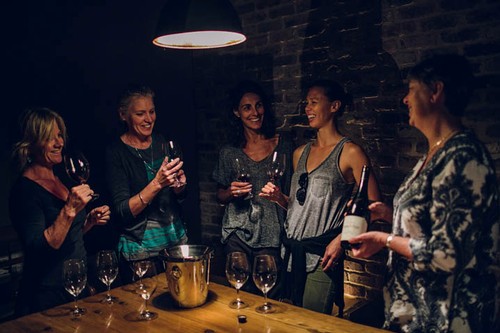 1 - To decant or not to decant
That is certainly the question. Our answer, when it comes to red wines, is a definitive yes. For older reds, decanting separates the sediment from the wine. For younger reds, bitterness is reduced and the more subtle flavours are encouraged to open up by exposing oxygen to the wine.
2 - Does sparkling wine warrant a silver spoon?
Not that we ever have trouble polishing off a good bottle of sparkling, but if you do, is it worth dropping in a silver spoon to keep the sparkle alive and kicking? Our research says no. A spoon does not halt the process of depressurisation of the sparkling wine (which is how those tiny bubbles appear in the first place) because it does not boast any physical traits to do so. Our research also says that keeping the sparkling as cold as possible without a stopper is just as effective as placing a foreign object inside the bottle.
3 - Perfect white wine serving temperatures
Sparkling wine obviously needs a good chill to be at its best. Here's a general rule: the cheaper the sparkling, the cooler it should be served. Keep in mind that chilling a wine will conceal its aromas. Good quality sparkling and Champagne can be served at about 12°C. For white wine, the lighter, sweeter and more aromatic styles can be served cold, as chilling will preserve balance without dampening vibrant aromas. Fuller whites, such as Chardonnay, don't need to be chilled so low. They call for a touch of warmth to fully articulate the roundness of their flavour profile.
4 - Perfect red wine serving temperatures
When it comes to red wines, keep in mind that in Australia, our room temperature (translation: our cellar storage areas) can be warmer than the average home, especially in France, where average room temps are 15-18°C. So lighter reds, like Pinot Noir or Cabernet Franc, can do with a quick blast in the fridge, down to about 14°C. Heavier reds can cope with 18°C or so. If reds are served too warm, they can taste one-dimensional, flabby or muddy. If in doubt, chill. The French do it.
5 - Keep your cool
Remember that heat is not wine's friend. So whatever you do, find a cool, dry place for it to live. Not the kitchen. Not the attic. Maybe under the stairs, in a cupboard or, at best, in a customised wine fridge.
6 - Buy in bulk
Chances are you'll drink, gift or cellar at least 12 bottles of wine over the festive season, so do yourself a favour and buy them all at the same time, from the same place. Practically all retail outlets, including cellar doors, offer a discount for a dozen, sometimes six bottles, or more.
7 - Talking turkey
Certain Aussie traditionalists recommend serving sparkling red with roast turkey. It's an acquired taste. And one that many swear by. But we prefer an elegant Pinot Noir or Gamay, a dry Rosé or even a rich Chardonnay with our turkey. Perfect match.
8 - Take the cake
One of the best moments of an Australian Christmas celebration is the outing of the Christmas cake. Industrious cooks prepare their fruit weeks, months even, in advance. We can't let this moment go by without suggesting an eternally fantastic wine match. Australian Rutherglen Muscat. This lusciously sweet, fortified wine is Christmas cake in a glass. Who wouldn't be thrilled to find this gem lurking in their Christmas stocking?
9 - The world is your oyster
In food and wine matching heaven, French Champagne was created to be served with oysters. Serving this duo at the kick-off of a festive soirée is supremely luxurious and good for the soul.
10 - Help yourself
One downside of the festive season is the fact that so many decisions need to be made. But there are people to help. Call your local cellar door or wine retailer for help with gift ideas, office parties and wines to serve – we know what's new, fresh and just right for your celebration. Call the Singlefile Cellar Door (1300 885 807) and our friendly, knowledgable staff will help with your party and present planning needs.