12 March 2018 | Singlefile Wines Blog | Viv Snowden
Singlefile's Chardonnay Styles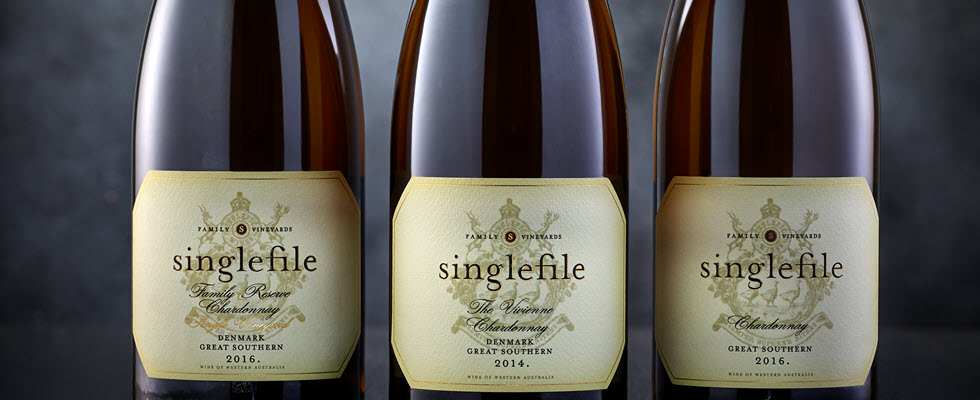 Dedicated Singlefile fans know that Chardonnay is our signature variety. It's a marriage of region meets varietal articulation, where Denmark's cool climate permits Chardonnay's natural acidity to develop slowly, ultimately producing lean, racy wines of pure-fruit sharpness and complexity.
Singlefile crafts four different Chardonnays across its ranges, picking fruit at different times for each expression, and using minimal interventionist winemaking to bring about a range of Chardonnays that each tells a story of varietal diversity.
Allow us to introduce you to the approachable Run Free Chardonnay, the regional Great Southern Chardonnay, the vineyard-specific Single Vineyard Denmark Family Reserve Chardonnay, and finally, the iconic The Vivienne Chardonnay.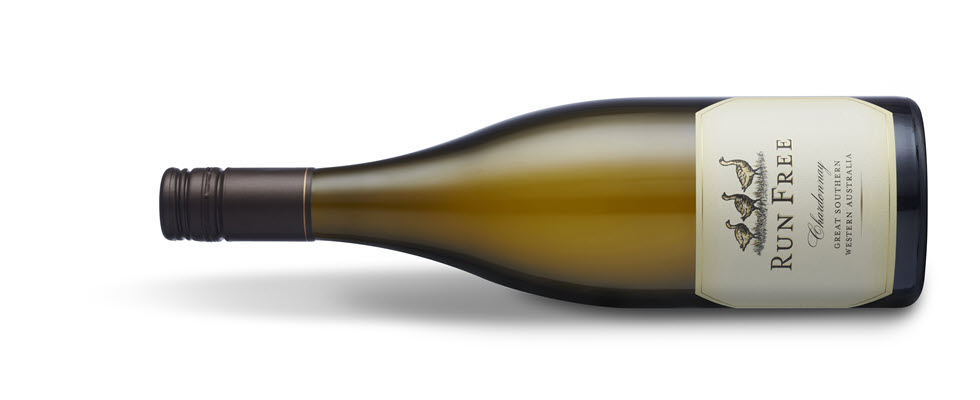 Run Free Chardonnay
Singlefile's Run Free Collection features wines that introduce Western Australia's deliciously accessible flavours and characteristics with fruit-driven wines that are full of personality and make ideal food matches. Whether it's a frisky Sparkling or a hearty Shiraz, the wines in this collection please every wine drinker.
The Run Free Chardonnay represents everyday drinking taken to the next level. Stone fruit aromas are countered by an underlay of toasty spice. No malolactic fermentation is used in the making of this wine, allowing its piercing natural acidity to shine, holding the citrus and cashew palate in check, culminating in a long, flavoursome finish. The palate displays barrel ferment characters, thanks to the leisurely fermentation with wild yeasts in French barriques.
This is a Chardonnay for drinkers who enjoy matching wines with food, and for those who yearn for a solid Great Southern Chardonnay with all the fruit wonder and varietal purity this region has to offer.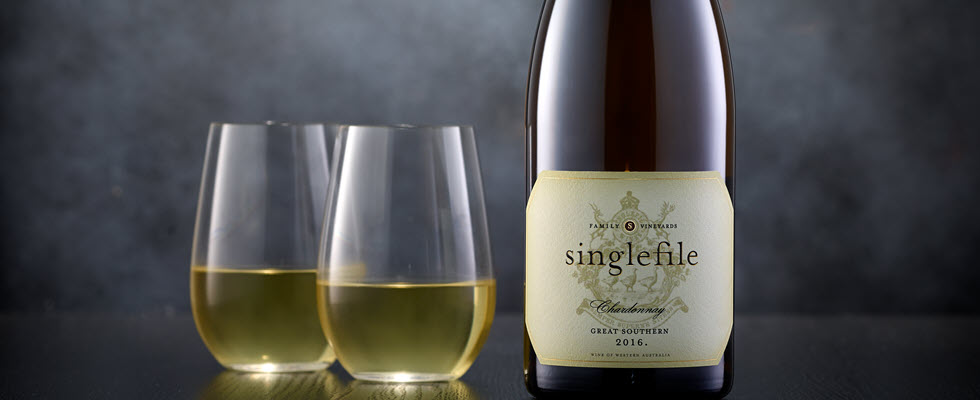 Great Southern Chardonnay
Singlefile's Great Southern Collection showcases the best parcels of fruit grown in this cool-climate region in superlative wines made with modern winemaking practices. Want to know more about this emerging wine region? Explore each of the wines in this carefully curated Collection, from the Riesling and Semillon Sauvignon Blanc to the Rhône-style Clément V red blend and the juicy Cabernet Merlot. They all contribute to a slice of the overall canvas that articulates the brilliance of the Great Southern wine region.
Crafted from fruit grown in the Great Southern region, this Chardonnay is modern and considered, with a judicious application of smoky oak simmering underneath bright citrus and peach aromas and mouth-filling flavours. The palate is a sharp concentration of stone fruit and citrus, cushioned by creamy textures, a tight backbone of acidity and a lingering finish, making it a perfect match for rich poultry dishes.
This is a Chardonnay for lovers of the modern Chardonnay style, made with a touch of oak and measured acidity.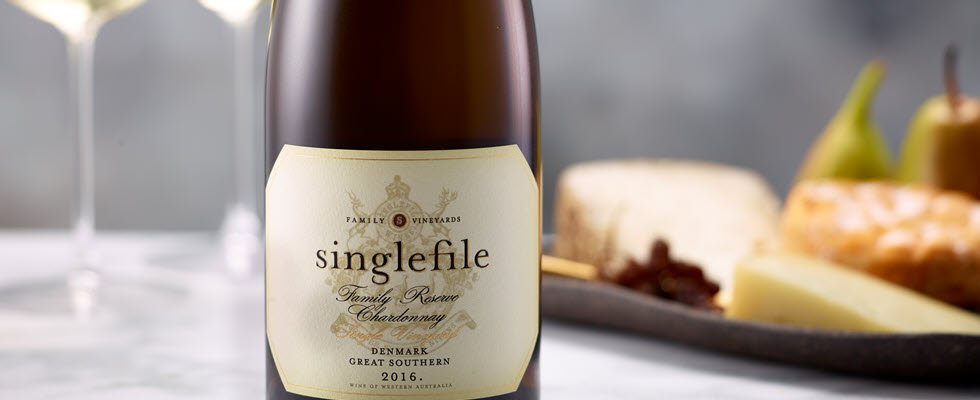 Single Vineyard Denmark Family Reserve Chardonnay
Singlefile's Single Vineyard Collection highlights single-vineyard sites explicitly selected to express the best sub-regional and varietal idiosyncrasies of the Great Southern. Each of the wines in this Collection tells a story of place and provenance, from Frankland River to Mount Barker and Denmark.
Singlefile's Single Vineyard Denmark Family Reserve Chardonnay is all about complexity. The grapes are picked a fraction later than Singlefile's other Chardonnay expressions and this later-picked fruit imparts slightly more flavour and less natural acid to the resulting wine. This full-bodied flavour demands a significant portion of new oak, so the wine sits in barrels with weekly bâtonnage (stirring of the lees) for the first six to eight weeks to impart that French "oaky-ness". The wine undergoes partial malolactic fermentation, which adds complexity, smoothness and a creamy textural touch.
The powerful grapefruit and white peach aromas invite you in at first inhalation. Take a sip and be subdued by the concentration of citrus and stone fruit, followed by a toasty almond complexity that begs to be savoured once again. This complex style develops an attractive nutty secondary characteristic over time with sufficient natural acidity (thanks to its cool-climate provenance) to age gracefully for up to 10 years.
At once intense and restrained, this is a Chardonnay for lovers of complex, powerful and finessed Chardonnay.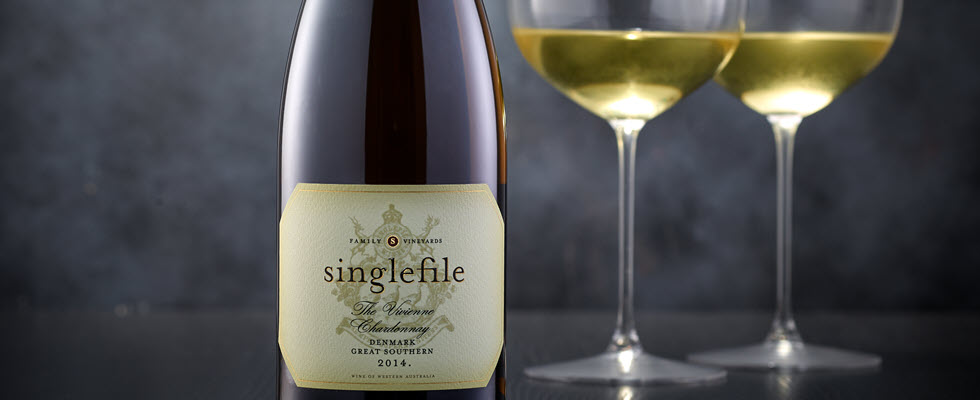 The Vivienne Chardonnay
Singlefile's Limited Release Collection features the iconic wines that embody the winery's moniker, The Pursuit of Excellence. The collection features The Vivienne Chardonnay, The Philip Adrian Cabernet Sauvignon and various sparkling releases – these wines are made only when vintage conditions are at their best.
If there was a wine that truly embodied the lifeblood of Singlefile's Denmark Vineyard, The Vivienne is it. It's a wine of purity and drive, with a very long life. Harvested earlier than Singlefile's other Chardonnays, the grapes are picked from different rows at two to three separate intervals across vintage period for optimal ripeness.
The Vivienne Chardonnay is at once rich and refined, balanced and complex. The nose ranges from citrus and stone fruit to butter and cream; the palate is deep following a long line of mineral acidity. It will captivate and allure even more with a little age on its side (up to 10 years).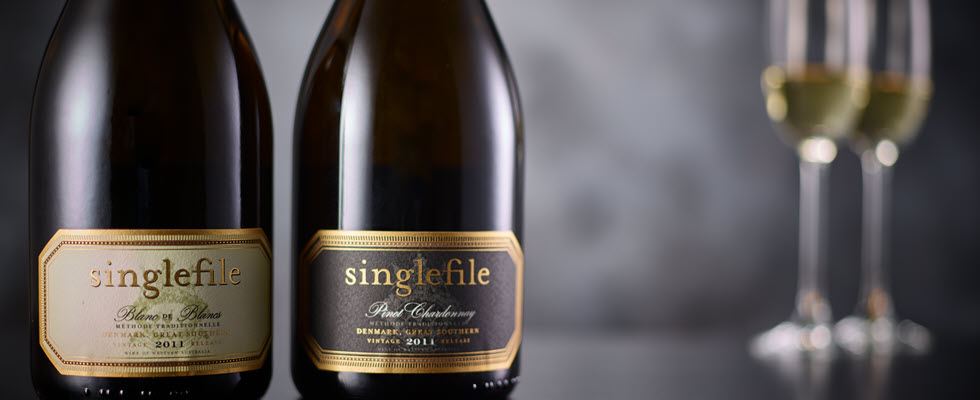 Singlefile's Chardonnay line-up also includes the Limited Release Collection sparkling wines: the Denmark Blanc de Blancs (100% Chardonnay grapes) and the Denmark Pinot Noir Chardonnay. Both expressions are vintage wines, made only when conditions are supreme. They display complex characteristics that showcase Denmark's cool climate and are made using the time-honoured method of secondary fermentation occurring in the bottle, as championed in France's Champagne region.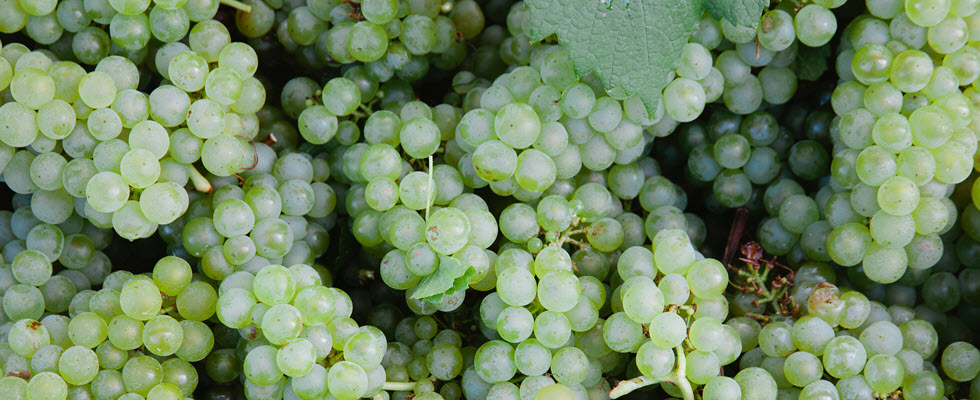 After almost a decade of crafting unique expressions of Chardonnay, Singlefile has discovered that making great Chardonnay is all about treating the fruit with the utmost respect, allowing acidity to evolve gracefully, identifying the right picking date, which dictates flavour profile and natural acidity levels, and applying minimal yet thoughtful winemaking influence to maintain purity and balance.
Like everything in wine, there are lots of elements that contribute to crafting great Chardonnay. For the Singlefile team, the goal is balance, where no characteristic dominates and each time you take a sip it's a lesson in fully resolved winemaking, without noticing the flavour, acid or oak as overpowering elements.
What we know for sure is that when you enjoy Chardonnay, do so when the wine has come to room temperature. Why? The flavours will flourish and the balance will bare its soul. Serving Chardonnay at glacial temperatures is akin to silencing all the nuances of this classic variety. If you haven't already, it's time to indulge in a Singlefile Chardonnay.