10 April 2017 | Viv Snowden
Rhône Reds and their influence on the Australian Wine Scene
Understanding the nuances and the history of one of the most famous wine regions in the world can be intimidating, to say the least. So let's start at the very beginning. A very good place to start.
There's no place like Rhône
Where is this magical land of the Rhône Valley? Look at the map of France and allow your eyes to rest in the south-eastern corner – the region peaks at a town called Vienne, just south of Lyon, and it stretches all the way south to Avignon on the Rhône River, the ancient home of the Catholic popes.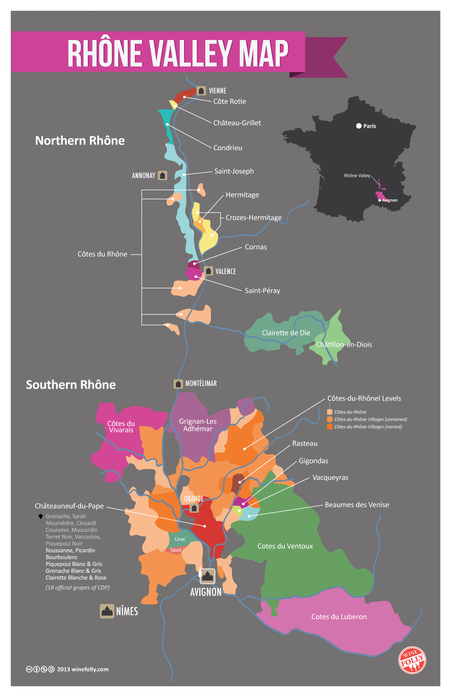 It's thought the first cultivated wines were planted around 600BC. Some speculate Syrah (Shiraz as we call it in Australia) was brought to the region by the Greeks from the Persian city of Shiraz; others say it came from the Sicilian city of Syracuse. Speculations aside, scientists have carried out extensive DNA testing, which led them to conclude that the Syrah clone originated in the Rhône region itself.
North vs South
The valley is divided into two sub-regions that boast very distinct traditions and wines of varying flavour, quality and weight. Geographically the Northern Rhône is dwarfed by the enormity of the Southern Rhone (both figuratively and geographically) – in fact, close to 95% of all Rhône wines hail from the Southern part of the valley.
The great majority of Northern Rhône wines are produced from Syrah – it is the only red grape permitted in the Cornas AOC (Appellation d'Origine Contrôlée). But in other AOC, Syrah can be blended with white grapes, typically Viognier, but also Marsanne and Roussanne. These white grapes are in turn produced as white wines in their own right throughout the Northern Rhône in various blending marriages.
But let's move to the Southern Rhône, where the red blends are something else altogether. With an area of this size, producers are faced by myriad terroirs with variable microclimates, soil types and geographical challenges. Despite the challenges, Jancis Robinson labels these drops "France's most user-friendly wines".
Why? Southern Rhône reds are alcoholic – a wine with an alcohol level sitting at 14-15% is not uncommon. If Syrah dominates the wines of the Northern Rhône, Grenache is King of the South, building the foundation of many of the red blends with its openly fruity, drinkable characteristic. As Jancis describes it, this Southern Rhône region is also more Mediterranean in climate, acting as "the gateway to Provence, a land of olive trees, cicadas, sunshine and Impressionist summer landscapes". These factors are all ingredients in the production very drinkable drops.
Similar to the rules in the North, Southern Rhône producers are allowed to blend red and white varieties, creating a vast array of styles. Compared to the north, the wines of Southern Rhône are (very generally) lighter, fruitier, expressing more ripe red fruit over black fruit, often with a hint of Provençal herbs, olives and a spicy ending.
Châteauneuf vs Côtes
There are 15 Southern Rhône AOC (appellations), the most famous of which is Châteauneuf-du-Pape, a red blend brimming with up to 19 varieties (10 red and nine white)! Translated from the French, Châteauneuf-du-Pape means the Pope's New Castle. The region in which this famous wine is produced is home to the town of Avignon. It was here, in 1309, that newly elected Pope Clément V decided to take up residency instead of Rome.
But back to the wine. Another well-respected AOC in the Southern Rhône is Côtes-du-Rhône. Wine writers suggest this region produces wines with truly sublime characteristics at very affordable prices. The wines can be bright, fruity, sweet, spicy and packed with ripe, red berries. They can also be full-bodied, rich, raisiny, spicy, grippy and powerful. No wonder this style is emulated in regions all over the world.
Trio of Varieties
So when you look at the success of these two sub-regions in the Southern Rhône – Châteauneuf-du-Pape and Côtes-du-Rhône – what they have in common is their use of three magic varietals that define the style. And they are Grenache, Syrah (Shiraz) and Mourvèdre.
When considering how to describe the success and popularity of this style of red Rhône, the concept of "synergy" applies – the creation of a whole that is greater than the simple sum of its parts. What do those parts – Grenache, Syrah and Mourvèdre – contribute? Let's take a look.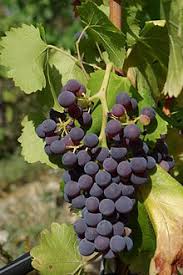 Grenache is the lightest of the three, adding candied fruit, soft raspberry scents and cinnamon spice. It contributes alcohol, warmth and fruitiness without overpowering tannins.
Syrah adds the darker fruits of blueberry, plum and even black olive, flavours [A1] that sit on the savoury spectrum. Syrah also adds a lot of up-front flavour and boldness but not a lot of aftertaste.
Mourvèdre is the variety that provides the persistent flavour punch right at the end. On its own this grape produces a deeply rich, dark wine, similar to Syrah. The grape is used judiciously in these Southern Rhône blends to add tannin structure, floral aromas and that lovely flavour kick at the end.
This time-honoured style has become a benchmark for Australian producers, including Singlefile. Our nod to this style comes in the form of the Clément V – a medium-bodied blend of Shiraz (66%), Grenache (27%) and Mataró (7%)[A2] . (Mataro is only one moniker for this variety – the French call it Mourvèdre; the Spanish call is Monastrell.) It boasts bright, perfumed aromatics of red fruits and spice with a subtle savoury edge. The palate is plush, with a smoothly textured mouth feel with fine-grained grippy tannins.

Like all GSM Southern Rhône blends, it makes the perfect partner for food. Why don't you try this style for yourself? And if you're lucky enough to have tried a GSM from the Southern Rhône, let us know how Singlefile's version compares by leaving a comment below.