5 February 2017 | Singlefile Wines Blog | Viv Snowden
Meet Gracie, Singlefile's Winery Dog
We're big dog lovers at Singlefile – and our most beloved is certainly our winery dog Gracie, who is particularly crucial to Singlefile's winemaking process. Gracie features on page 20 of the Wine Dogs Australia (fourth edition) and is quite a star. Find out more about how Gracie fits into life at Singlefile in this special Q&A, with answers provided by Gracie's parents, Viv and Phil Snowden.
How does Gracie react to visitors of Singlefile?
If she were allowed free rein, Gracie would welcome every winery visitor with bounding, barking, leaping enthusiasm. Her soul mate, Leila, Patrick and Pam Corbett's chocolate Labrador, is quick to assist Gracie in cleaning up under the picnic benches after customers have retired. When the benches are not occupied, Gracie is quick to hop up and survey the surroundings.
What kind of dog is Gracie and how long has she been at the winery?
Gracie is a blue heeler (Australian cattle dog). And she's been living at the winery with us since she was born, which was 6.5 years ago.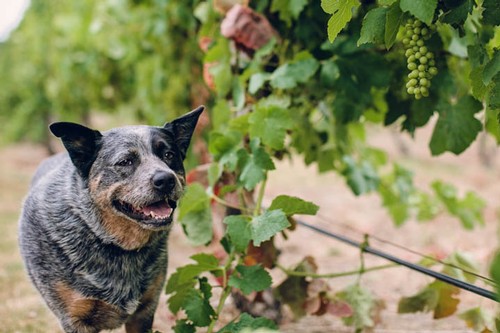 What does she love to do?
Gracie loves to be with our grandchildren, Tilly, Maya, Georgie and Sidney. She guards them and stays at their side if they are having a nap. She loves to sneak onto their mattresses when they have a sleepover. She will sit, drop and stay for a treat, but not on command, except for a tummy tickle. Most of the day is spent sleeping but during the evenings she loves to sit on the lawn enjoying the cool air and observing the sounds and smells of the night. She plays with balls, tossing them in the air for herself if necessary, until she can no longer control herself then chews them up. Oh, and did I mention, she barks (a lot) and defends the vineyard in the evening, making sure that we are all safe from any unwanted prowlers.
How does she get along with the geese?
Gracie has learnt to respect the geese (usually) and they tolerate her with a certain disdain. However, parrots and other unsuspecting birds seem to be fair game if she thinks they're getting up to mischief.
Are there any parts of the winemaking process that Gracie helps with?
Gracie loves to inspect the handpicked grapes and tends to want to sample the best bunches if she has her way. We discourage this degree of intervention, as it tends to deplete the yield.
Has she ever met other winery dogs?
Yes! When she was just a puppy, Mac and Bud, the Bernese Mountain Dogs from Denmark's Whitfield Estate, came to visit. They are huge, hairy and friendly. Gracie retreated into her kennel with great speed when they came to greet her.