8 October 2015 | Singlefile Wines Blog | Viv Snowden
Introducing Stash Coffee
Australia's obsession with the provenance of wine is slowly percolating through to our interest in coffee. Never before have we cared so much about hunting down the best flat white and naming the roast of our beans. Phil and Viv's daughter Nina and her husband Brad Bradshaw are recent converts to the joys of single origin espresso. In fact, Brad was so enamoured with his first taste of top espresso coffee ("It was like biting into a piece of fruit," he recalls) that he and his wife Nina have established their own small-batch artisan company called Stash Coffee.
A photographer with an eclectic background in design, programming and engineering, Brad had an epiphany when he visited his first specialty coffee producer in 2014. The couple had moved to Australia from an idyllic rural village in England, and until that first mouthful of single origin espresso, Brad had no idea that coffee could taste so good. "I was both intrigued and surprised that these flavours were possible in an espresso." Having spent some time with Singlefile's winemakers, Brad understands the relationship between good grapes and the resulting wine. "I knew the crucial work was done even before harvest, and I tasted the difference in single-site wines," he says.
Nina was keen to start a business that could operate around their two young children, so with the support of Singlefile's Phil and Viv Snowden, the pair established Stash Coffee. Serendipity has it that Stash has established its first roasting set-up among Singlefile's Chardonnay vines. Hessian sacks of green coffee beans from around the globe line the walls. The all-important roaster dominates the space. After roasting, the coffee is carefully cupped (the industry term for tasting) and is hand packed, labelled and sent to its destination.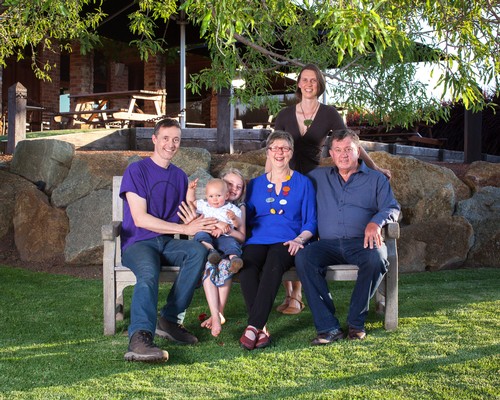 Brad recommends his coffee be consumed within a few weeks of roasting. "It's a surprisingly simple roasting plan – select the finest beans and preserve the flavours of origin in the cup. It's about the taste. This is small batch coffee at its best". After a day at work Brad can wander down to the cellar door at Singlefile and relax with a glass of fine wine, but it's the coffee that he gets up for in the morning.
Head to Singlefile's Cellar Door to experience the single origin flavours of Stash Coffee, and you can purchase the beans through their website. Purchases over $40 always attract free shipping. Sign up to receive Stash Coffee's newsletter by emailing news@stashcoffee.com.au or visit www.stashcoffee.com.au