16 June 2020 | Singlefile Wines Blog | Viv Snowden
Cork versus Screw Cap Closures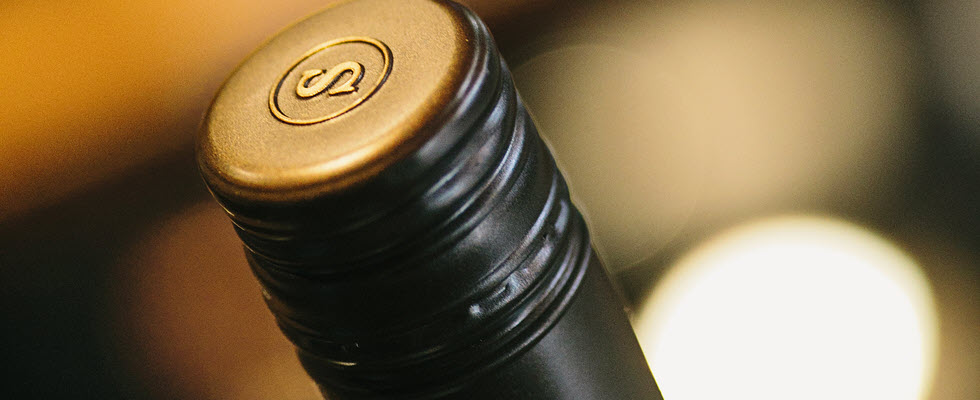 Introduction
Cork has been the preferred choice as a wine bottle closure since the 1400's when glass bottles became popular for storing wine. Cork bark is sourced from the cork oak tree (Quercus suber). Evidence over a long period revealed that about 12-15% of wines stoppered by cork were 'corked' and judged not worthy of consumption. Many of the corked wines were tainted by a compound known as TCA (an acronym for Trichloroanisole) which is formed when natural fungi residing in cork closures come into contact with winery sterilisation products. The presence of TCA imparts an unpleasant mouldy smell (something akin to the odour of a wet dog).
The screw cap revolution was initiated in 1964 when Peter Wall, former director of South Australian winery, Yalumba, who was dismayed by what he considered to be a high percentage of faulty wine arising through cork taint. He commissioned a French company located in Burgundy to develop an alternative closure. From this work the screw cap closure was born with the registered trade name STELVIN (originally called STELCAP VIN). It was first used in the Australian wine industry in the 1970s, but consumers at the time perceived these wines to be of low quality, and the initiative stalled.
The STELVIN is an aluminium screw cap lined with plastic, which integrates a metal skirt that hugs the top of the bottleneck, just like a traditional cork stopper's foil. It was patented in 1976 by the French company Le Bouchage Mecanique and began commercial use in Australia during the 2000 vintage when a number of Clare Valley winemakers bottled some of their Rieslings under screw cap to prevent cork-related faults.
However, cork remains the most favoured wine bottle closure among wine producers and consumers outside Australia and New Zealand and provides the stopper for about 70% of the world's wines. The reliability of corks has improved in the last decade or so in the face of rising competition but arguably there is a still an unacceptable proportion of wine affected by cork taint (estimates range from 3 to 8%).
Cork Closures
Cork bottle stoppers are made using a delicate labour-intensive (expensive) process of peeling slabs of bark from the living cork oak tree to be cut into uniform sheets and fashioned into bottle stoppers. The flexibility of natural cork provides a viable seal for 5 years or longer. This is a sustainable process as the tree bark regenerates.
Pictured below is a young cork tree at Singlefile Wines showing the cork beginning to develop along the trunk and branches of the tree.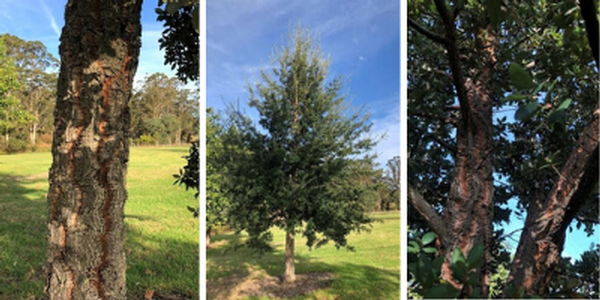 Screw Cap Closures
Currently screw caps are the closure of choice for the majority of Australian and New Zealand producers, across all styles and price points.
A recent innovation in screw cap technology has seen the development of closures that allow strictly controlled rates of oxygen transmission, giving winemakers the choice of differing maturation rates for different wine styles, avoiding the problem of reductive aromas (the smell of rotten eggs) when the screwcap is removed (due to the reverse of oxidisation).
Pros and Cons of Cork versus Screw Cap Closures
If you're a wine drinker in Australia, you've probably noticed that the screw cap is no longer perceived as the closure just for cheap wine but is now widely preferred for wines ranging from low to high end. Increasingly, bottles of very good wines are being unscrewed, rather than uncorked.
The long-time argument that corks are better because they 'breathe' has been dispelled as 'breath' is now emulated by screw caps. Today you can buy screw caps which permit calculated levels of 'oxygen ingress' over time. Ironically, cork closures are actually quite variable with respect to their oxygen ingress rates.
According to James Halliday, the development of wine does not require oxygen; technically, it is anaerobic. But if there is an ongoing supply of oxygen through or past the cork, it will accelerate that development.
The main pros and cons of cork versus screw cap are summarised in the table below: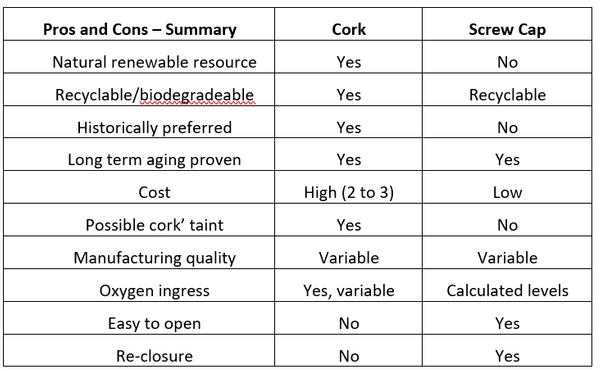 Perceptions
Cork proponents say that the interaction between wine and oxygen facilitated by the naturally porous material is essential to the ageing process of a cellar worthy wine. Screw cap fans think otherwise, though neither side has proved the superiority of their closure.
There are popular perceptions on both sides of the cork versus non-cork argument as illustrated by a selection of quotations below:
"The screw cap keeps the bottle sealed and does not allow oxygen to enter the bottle" … "And that… ensures that the wine remains crisp and well-preserved."
"Bigger, fuller wines benefit from a little oxygen that the cork naturally allows the wine to intake while it's in the bottle…The extra air oxidizes the tannins so they're softer, making the wine even more drinkable and approachable to our consumers"
"Screw caps? They're easy to open. No fiddling with a church key (or corkscrew). And no broken cork bits accidentally floating in your wine."
"By unscrewing…we get to the wine 10 seconds faster"
"Some winemakers in the U.S. …feel the jury is still out on ageing wines under screw cap"
"The screw cap upends the ritual of uncorking."
"…the only thing in life that's constant ... is change. And as the cork seal gives way to the screw cap, people are getting used to it"
Wine Insiders suggest that now that you know the pros and cons, we should debunk a few of the popular myths out there:
"There is a cork shortage."
No, there isn't. The cork trees in Portugal have recovered from the devastating fire in Portugal over fifteen years ago.
"Cork depletes a natural resource and is bad for the environment."
No, it doesn't. The bark of the Cork tree can regenerate, making cork a renewable resource.
"Screw caps are used on cheaper wines."
Not in today's marketplace where there is no correlation between cap and quality.
Award-winning Australian wine writer Tyson Stelzer came up with some stunning results from a blind tasting at Italy's biggest wine show, Vinitaly, in March, 2015 where he presented five mature flagship Australian red wines under both cork and screwcap in a blind tasting. In a major surprise the panel of international wine professionals voted the screw capped wines ahead of the corks.
Summary
While natural cork may, in some people's eyes, add character, heritage and custom to a bottle, it is not necessarily a reflection of wine quality. Screw caps are a convenient modern option, with few drawbacks. To settle this debate for yourself, you only have to decide which of the pros and cons matter to you. One thing is clear—either way, you won't necessarily be sacrificing quality!