2 May 2016 | Singlefile Wines Blog | Pam Corbett
Cheese and Wine Matching
So your friends are coming over, you've splashed out on a fabulous selection of cheeses and now it's time to decide on the wine. Or maybe you work in reverse? Source the wine, then figure out which cheeses to serve. Matching these two gifts from the gods is not an easy task – both cheese and wine are fermented products with complex flavour profiles to consider.
Like wine production, cheese production has been recorded since 5000BC. Cheese is the most diverse natural product after wine, from delicate aromas, fruity and nutty flavours through to intense aged complexity.
When pairing cheese with wine, factors to consider include the development of the cheese's characteristic properties such as the source of milk (cow, sheep or goat), is it raw or heated, skimmed or full-cream, was it salted, location and duration of ripening, as well as which bacteria or mould cultures were added.
It's not all hard work though – there are general rules to follow but like all great taste sensations, experimenting is the best way to discover your personal favourites.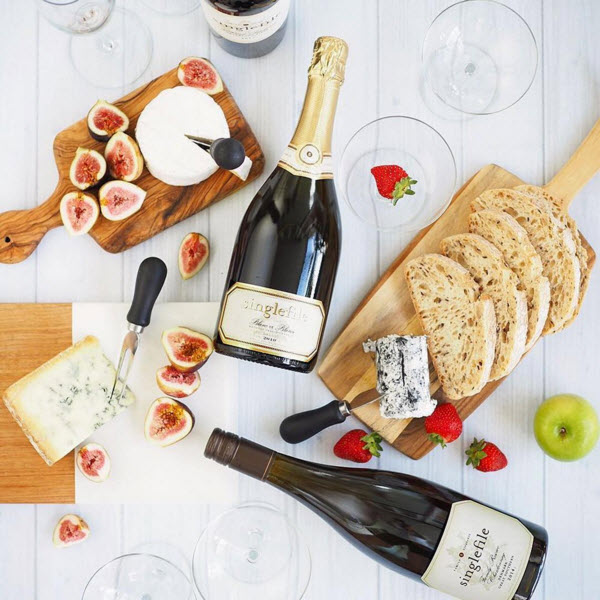 Chalk & Cheese
Enjoying cheese with red wine is one of the most well-known food and wine marriages around the world, but pairing heavy red wine with a soft, delicate cheese can demolish its subtle nuances, the heavy tannins simply demolishing the flavour and subtlety of the mild cheese. Whites wines are generally better suited to most cheeses. Some experts say the only cheeses that create a good balance with red wine are strong cheddars.
Whatever your preference, make sure your cheese is always brought to room temperature before serving and is stored in the fridge wrapped in separate packaging so aromas don't infuse other cheeses.
Fresh Cream Cheese & Goat's Cheese
These milder cheeses are often served as part of a dish as opposed to working in a cheese platter, and generally those styles of dishes work well with a sparkling wine, or even a mildly fruity rosé with a dry finish. Goat's cheese can often be tangy and have a nutty sharpness, so look for a white wine with fruity acid, such as a Sauvignon Blanc, crisp Riesling or a sparkling wine – the two different acid structures off-set each other.
Try Singlefile's Blanc de Blancs sparkling wine or the Single Vineyard Pemberton Fumé Blanc.
Semi-soft Bloomy Cheese
Creamy, decadent semi-soft cheeses such as Camembert, Brie and Taleggio, with soft rinds call for wines that match their acidity. It's also worth looking at the age of the cheese – when young, the cheese tends to be mellow and buttery but as it ages, it develops a pungency of mushroom and earth. Pair a young semi-soft cheese with a sparkling wine or a lightly oaked, delicate sauvignon blanc; pair an older, richer Camembert, for example, with a full-bodied white wine like a Chardonnay.
Try Singlefile's Single Vineyard Pemberton Fumé Blanc or Single Vineyard Denmark Family Reserve Chardonnay.
Italian-style Hard Cheese
Parmigiano Reggiano can be very salty, so pair it with a dry Riesling or Pinot Grigio that carries a good amount of acid to balance the tangy nuttiness of the cheese. Champagne is another great match for this popular cheese. Often white wines with some residual sweetness pair well with acidic or salty cheeses, as well.
Try Singlefile's Great Southern Riesling.
Mozzarella & Haloumi
These mild stretched-curd cheeses work best with aromatic whites and sparkling wines. A fresh Chardonnay will also bring to life the soft flavours of these cheeses. It's worth noting that stretched-curd cheeses are often used in dishes with stronger flavours, like mozzarella on pizza and haloumi in saganaki, so they may call for a light red.
Try Singlefile's Single Vineyard Denmark Pinot Noir.
Washed Rind Cheese
Washed rind cheeses can boast an incredibly strong smell yet be sweetly mild-tasting. When pairing with wine, the aroma and taste depends on the age of the cheese. Try a sparkling wine to begin with, and work up to a Riesling, Pinot Gris or Chardonnay if the flavour of the cheese is stronger than you expected. Aim for the ultimate sophistication by pairing strongly flavoured washed rind cheeses with a Chambertin Grand Cru Burgundy (Pinot Noir).
Try Singlefile's Single Vineyard Pemberton Pinot Gris.
Cheddar
Cheddars can boast a particularly strong flavour – and the stronger the flavour, the bigger the wine. This is where red wine comes into its own as a cheese match. Try a Cabernet Sauvignon or Grenache, and if you can manage it, make it an old one. A few years of age will soften the tannic overtones, making it softer on the palate and a better match for the cheese. Some cheddars will also suit a dessert or fortified wine, like a muscat or a tokay.
Try Singlefile's Single Vineyard Frankland River Cabernet Sauvignon.
Swiss-style or Eye Cheese
These cheeses are quite versatile when it comes to being matched with wine. They have a mildly sweet and piquant flavour so work well with a full-bodied white wine, such as Chardonnay or Semillon, but they will also do well with a light red, such as Pinot Noir, a dessert or a fortified wine such as sherry.
Try these styles of cheese with Singlefile's Great Southern Chardonnay.
Fetta-style Cheese
Think about how this cheese is served when matching the wine – it's likely to be part of a salad or another dish with stronger flavours. On its own, this tangy cheese works nicely with a sparkling wine, and can also stand up to a Sauvignon Blanc or Riesling, and even a light red.
Try Singlefile's Great Southern Semillon Sauvignon Blanc.
Blue Cheese
Love it or hate it, the flavour of blue cheese is one of the strongest of all. It calls for a wine that balances its sharp saltiness and earthy aroma. The sweet styles of Riesling enhance the wonderful saltiness of blue cheese, as do fortified wines like muscat and tokay. One of the ultimate cheese and wine pairings is Roquefort with Sauternes, the botrytis-affected sweet wine of Bordeaux.
Try with Singlefile's Great Southern Botrytis Riesling or Run Free's Nouveau.