2022 Singlefile Single Vineyard Mount Barker Pinot Noir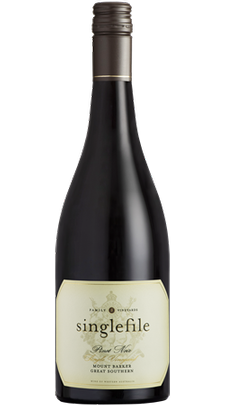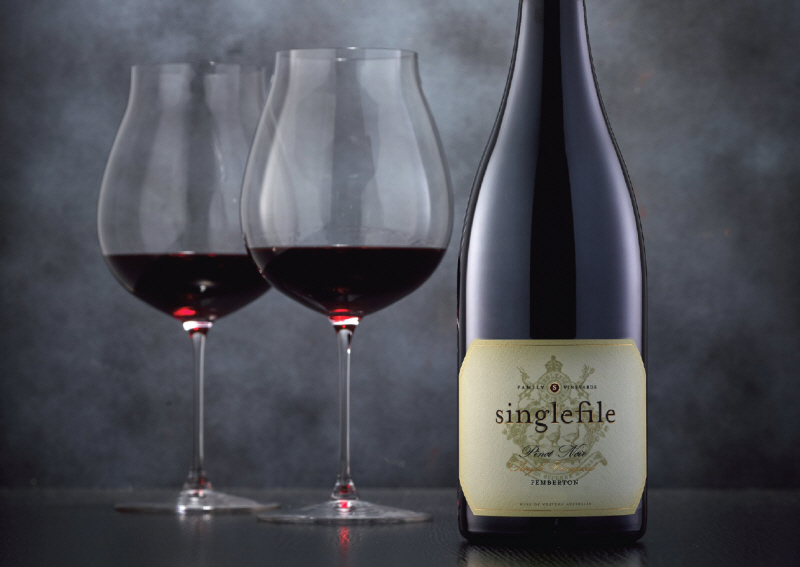 VINEYARD & WINEMAKING
The pinot noir grape variety is well suited to the cool climate environment of the Mount Barker sub-region of the Great Southern. This pinot noir fruit from Moore River Vineyard typically has strong varietal characters.
2022 delivered a wet winter and spring being reasonably dry. Even temperature days and cold nights helped to retain natural acidity in the fruit and allow full flavours to develop.
Harvested on 24th March 2022, the fruit was picked, gently de-stemmed and then cold soaked for two days. A parcel was barrel fermented and underwent natural fermentation in new French oak, the remainder went to small open fermenters and then to new and used oak. The wine spent seven months in French oak barriques, 30% new, before it was prepared for bottling.
THE WINE
A medium bodied pinot noir with lifted aromas of red berries and spices as well as subtle forest floor aromas which will develop further with time in bottle. These characters follow through on the palate. The wine has a medium weight and a gently textured mouth feel with soft and subtly grippy tannins. The Burgundian oak sits nicely in the background. The wine finishes with good length of flavour and a long finish. It is well suited to complement game or light red meat dishes, and it will reward cellaring.
Join the waitlist for our 2023 Single Vineyard Mount Barker Pinot Noir to be the first to know when it is released.
CRITIC REVIEWS OF NOTE
2022 Vintage
94 points, Wine Showcase Magazine, July 2023
2021 Vintage
94 points, Wine Showcase Magazine, December 2021
2020 Vintage
4 stars, Best of the West, Winestate Magazine, May/June 2021
2019 Vintage
92 points, Jeni Port, Australian Wine Companion, Aug 2020
2018 Vintage
94 points, Australian Wine Showcase Magazine, Aug 2019
92 points, Steven Creber, Australian Wine Companion, Aug 2019
91 points, James Suckling, jamessuckling.com, Jun 2019
92 points, Toni Paterson, The Real Review, May 2019
4 Stars, Equal Top in Category, Winestate Magazine, Apr 2019
2017 Vintage
16.5 points, Tamlyn Currin, JancisRobinson.com, Dec 2018
91 points, Ray Jordan, 2019 WA Wine Guide, Nov 2018
4.5 stars, Winestate Magazine, Sep/Oct 2018 Issue
91 points, QWine - Steve Leszczynski, Feb 2018
2015 Vintage
91 points, James Halliday, Australian Wine Companion, Dec 2016
2014 Vintage
94 points, James Halliday, Australian Wine Companion, Jul 2015
18 points, Barry Weinman, Fine Wine Club, Jul 2015
2013 Vintage
95 points, Australian Wine Companion, James Halliday, Jul 2014
94 points, Huon Hooke, Sydney Morning Herald, Apr 2014
18 points, Barry Weinman, Fine Wine Club, May 2014
2012 Vintage
Trophy "Best Pinot Noir", Australian Boutique Wine Awards, Oct 2013
Gold, Perth Royal Show, Sep 2013
92 points, James Halliday, Australian Wine Companion, Jul 2013
2011 Vintage
93 points, James Halliday, Australian Wine Companion, Jul 2012
Product Reviews
Rayne Webster
(18/11/2018 at 5:08 PM)
Probably my favourite Pinot Noir on today's market. Incredibly easy to drink, a higher % Pinot but without the heavy mouthfeel and overwhelming "alcohol" taste you get from heavier Pinot. Currently finishing off a bottle of the 2017 vintage with beef sliders and it is just divine!
Gai Day
(13/09/2019 at 5:42 PM)
A good back-palate finish with slight pepper and acidity. Hints of burnt citrus, with a good finish of tannins, spicy and earthy. The oak is very subtle and for me softens the full tannin finish.
Wayne Shipham
(25/05/2020 at 5:37 PM)
Subtle on the nose with a hint of cherry. Initial palate is smooth and lures one in to the experience. Cherries are forefront with some earthy spiciness. However, it is in the next few seconds to minutes that truly makes this wine a beauty. The fullness (although I would still put it at a medium body) explodes toward the back of the palate with berry/ cherry fruits well balanced with some earthy tones. A great pinot and I cannot wait to see how this develops further. Drink now, drink it next year, drink it much much later!!
Greg O'Shea
(12/06/2020 at 7:08 PM)
This wine on the nose reminds walking through a field of sunflowers on a Sunday afternoon. With a first sip it reminds me soft cherries and earth overtones. the finish comes with a subtle peppery dark chocolate silk on the pallet. This is trully one of the best Pinot noirs in australia. Congratulations to singlefile winemakers for a beautiful well balanced wine. Cheers.
NEville Chaplin
(30/08/2020 at 9:55 AM)
A fresh and lively wine with a bright, light red colour. The bouquet is perfumed with earthly aromas and flavours. On the palate the soft tannins draw together a subtle spicy ness with red fruits, leading to a strong finish.This is a wine easily matched with food of rich flavours. We paired our tasting with quail cooked with mushrooms and a red wine, port jus. Delish!
John Meehan
(28/09/2020 at 3:36 PM)
Beautiful light cherry-red hue, touch of plum on the nose with tinges of cherry, a really smooth and delicate flavour, softly tannic. Went really nicely with roast pork and all the trimmings!
Ben
(30/09/2020 at 10:33 AM)
One of the best valued Pinot Noir's out there. I didn't find this too heavy at all. From the start you the nose get to enjoy a soft aroma of spices. A couple of sips and the palate is tasting some beautiful cherry and light plum flavours balanced by smooth tannins. This was thoroughly enjoyed on a winters night with some slow cooked meat. I will definitely be coming back for more.
Anthony
(30/09/2020 at 5:24 PM)
Truly delicious Pinot Noir. Drank over 3 nights. Light colour - transparent, almost like currant jelly. Incredibly soft in the mouth with the slightest savoury notes/zests. Hints of apple and cherry. The flavour really lingers in your mouth. Great value - will certainly get again.
Russell
(30/09/2020 at 10:51 PM)
Beautiful colour almost glowing. Slightly fuller more red fruit driven Pinot with a hint of damp forest floor. Amazing with roast duck
Piers and Rachel Truter
(26/02/2021 at 10:27 PM)
Deep ruby in the glass. Vanilla, cherry and truffle on the nose. Medium bold palate with a long spicy end palete. Vanilla, chocolate, cherry and a very comfortable mildly tannic oak and leather finish. The finish leaves you wanting the next sip.
Rachel and I tasted this with a spicy Tasmanian Pinot and realised that this great southern Pinot offered a flavour profile that was instantly recognisable and a cosy place for aficionados of WA wine.
Andrew P Saunders
(26/03/2021 at 6:47 PM)
The Pinot had an instant impact with my family of 4 tasters who are are all Pinot lovers. As soon as I had decanted the bottle there was a beautiful smell of the fruit and a lovely clear colour. It had a good body and a lovely smooth taste. To our surprise it went beautifully with a spicy chicken soup we were eating.
Tom
(20/02/2023 at 9:07 PM)
The Single Vineyard Singlefile Pinot Noir has always been a beautiful wine which was why I was very pleased to see it was sitting in my tasting panel box.
It has a balanced acidity for coming from a cooler region with beautiful fruit characters of cherry, cranberry and raspberry with very well incorporated use of both old and new oak. Typically drinking a current vintage of a wine that has a 30% portion of new oak needs some time to have all of its components mellow out together. However, this Pinot Noir has always been beautiful to drink upon release.
Due to being a very balanced, smooth and easy drinking red that you could have all year round, especially if you briefly chill it in your fridge, it is a stunning wine to bring to any social gathering. It also would please a more critical audience as well due to how well the wine has been crafted.