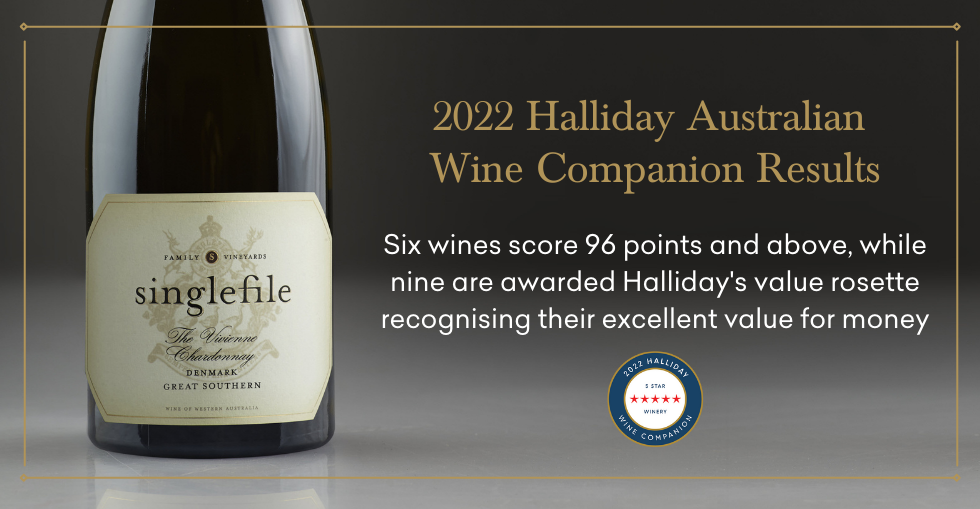 We are delighted to share the results of the Wine Companion Awards, held last week on the 12th August and coinciding with the release of the 2022 Halliday Wine Companion.
We were thrilled to receive our results and to maintain our 5 Red Star winery rating. This year we submitted fourteen wines, with six scoring 96 points and above, and all fourteen scoring over 90 points. Most importantly we have been recognised for our excellent value wines, with nine wines receiving Halliday's value rosette.
2018 Singlefile 'The Vivienne' Denmark Chardonnay
97 points, listed in 2022 Halliday Top Rated Chardonnays in Australia, value rosette
"This is a wine of great provenance, with singular intensity. The fruit flavours hinge on grapefruit zest and juice alike, tightly framed acidity is also centrally involved. French oak is present, but in no way threatens the fruit. This will outlive the patience of many of those who purchase it."
2020 Singlefile Single Vineyard Mount Barker Riesling
96 points, value rosette
"All class, as befits its Blue Lake Vineyard birthplace. The blossom and talc bouquet is shadowed by the intense, crisp palate where Granny Smith apple, crisp lemon-and-lime infusion, and detailed acidity, carry the wine to a vibrantly fresh finish."
2019 Singlefile Single Vineyard Family Reserve Denmark Chardonnay
96 points, value rosette
"Chilled overnight and whole-bunch pressed direct to French barriques (40% new) for fermentation and 10% mlf, stirred weekly for 6 months. Opens with touches of smoky oak/grilled cashew on the bouquet. White peach, citrus and nashi pear follow on the long palate, which has layers of texture."
2019 Singlefile Great Southern Chardonnay
96 points, value rosette
"Chilled, whole-bunch pressed into French barriques (28% new). Lees stirred for 5 months, total time in oak 10 months. The oak is obvious on the bouquet, but fruit takes command on the rich and intense palate – grapefruit wrapped around white peach."
2019 Singlefile Single Vineyard Frankland River Shiraz
96 points, value rosette
"Frankland River is arguably the epicentre of Great Southern shiraz, the Riversdale Vineyard always in the frame. There is a combination of blackberry, pepper, spice and red licorice, classy tannins underwriting the longevity of a very good wine."
2018 Singlefile 'The Philip Adrian' Frankland River Cabernet Sauvignon
96 points
"Hand picked, 2 weeks cold soak, 6 weeks post-ferment maceration, pressed to French oak (50% new) for 14 months' maturation. A sophisticated wine built for the long haul, not early consumption. It demands and deserves respect."
2020 Run Free by Singlefile Riesling
94 points, value rosette
"Great Southern fruit. The bright, crisp, mineral edge to the fruit is derived from the high acidity (8.7g/L) and nigh-on zero residual sugar. Bursting with tingling lime sherbet flavours and aftertaste."
2020 Singlefile Single Vineyard Pemberton Fumé Blanc
94 points
"There's plenty happening here, with mouth-pleasing tropical notes in a filigree of oak that has as much to do with structure as flavour. Ready now, although the citrusy acidity will underwrite its medium-term future."
2019 Run Free by Singlefile Chardonnay
94 points, value rosette
"Pressed direct to French barriques for a slow ferment and 8 months' maturation, no mlf. White peach/nectarine/grapefruit sing together, oak spice a whisper. Overall intensity and length are impressive. Bargain."
2019 Singlefile Great Southern Malbec
93 points, value rosette
"The bouquet and palate unite with chocolate-dipped plum fruits. The mouthfeel is supple and plentiful, integrated oak in support. Attractive wine, excellent value."
2019 Singlefile Single Vineyard Clément V
92 points
"A blend of shiraz, grenache and mataro from the Riversdale Vineyard in Frankland River. Small batches, 6-day cold soak before extended fermentation and maceration. Matured in French barriques (30% new) for 10 months. Bright colour and a strikingly fragrant/perfumed bouquet with red fruits foremost. The palate follows suit until an unexpected punch on the finish."
2019 Singlefile Great Southern Tempranillo
92 points, value rosette
"The initial impression of a light-framed wine changes once the length and spicy/savoury finish and aftertaste come into play. There really is a lot happening here. The foresty fruit flavours and fine-grained tannins are very good."
2020 Run Free by Singlefile Sauvignon Blanc
91 points
"No-frills winemaking in a wine that speaks as much about its geographical place as its variety. A hint of pear and mineral acidity, Granny Smith apple in the vanguard."
2019 Run Free by Singlefile Shiraz
91 points
"A lively, light- to medium-bodied cool-climate shiraz that covers all the bases in its drink-to span – tonight, or in 10 years. Fruit is in the driver's seat, tannins and oak are relegated to observer status, but do leave their (positive) mark on the style."