PRE-RELEASE: 2023 Run Free by Singlefile Pinot Grigio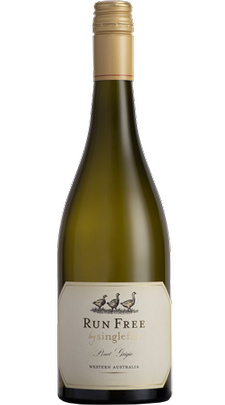 VINEYARD & WINEMAKING
The 2023 growing season in the Great Southern saw plenty of rainfall and mild weather which encouraged good ripening conditions for cool climate pinot grigio. Cooler growing conditions allowed for the strong varietal characteristics we come to expect of pinot grigio to shine through.
This pinot grigio was picked just after dawn on the morning of 2nd March. The fruit was brought to the winery and gently destemmed and pressed, the juice transferred directly into stainless steel tanks and temperature controlled to ensure a slow fermentation process. After the fermentation the wine was racked off the fermentation lees and left to settle until late June, and bottled early to retain all the delicate aromatics.
THE WINE
There is a lovely delicacy to the aromatics in this pinot grigio. They display a lifted bouquet of green nashi pear and citrus with an underlay of floral notes. The palate has some subtle weight while still maintaining freshness. An easy drinking style with a clean and flavoursome finish.
PREVIOUS RELEASES
2022 Vintage
2021 Vintage
2020 Vintage
2019 Vintage
CRITICS REVIEWS OF NOTE
2022 Vintage
93 points, Winestate Magazine Pinot Gris/Grigio Tasting, Nov/Dec 2022
2021 Vintage
92 points, Wine Showcase Magazine, Dec 2021
2020 Vintage
4 stars, Winestate Magazine, Dec 2020
4 stars, Winestate Magazine, Aug 2020
2019 Vintage
4 stars, Best Wines of 2020, Winestate Magazine, Annual Edition 2021
4 stars, Equal Top in Category, Winestate Magazine, Sep/Oct 2019