2019 Singlefile Great Southern Riesling Magnum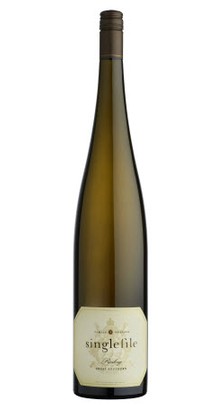 Maximum 1-bottle per customer
VINEYARDS & WINEMAKING
In the Great Southern, 2019 delivered excellent growing conditions, with winter and spring being reasonably dry and summer holding cooler temperatures.
The parcels of free run juice underwent a long and slow cold fermentation in a stainless steel tank immediately after pressing to preserve the fruit character. Gentle lees stirring was carried out to add subtle texture. The wine was bottled in July 2019.
THE WINE
The colour is light with a green tinge, the aromatics display apple blossom and lime tones. The palate shows a softly textured, crisp style with subtle mineral undertones and a tight crisp finish. It is anticipated in time this wine will develop a stone-line minerality and poached citrus richness whilst retaining its linear acidity.
CRITIC REVIEWS OF NOTE
2019
96 points, Top 100 Wines, James Halliday, Australian Wine Companion, Nov 2019
96 points, Nick Butler, The Real Review, Sep 2019
18.3 points, Barry Weinman, Western Suburbs Weekly, Sep 2019
93 points, Campbell Mattinson, The Wine Front, Sep 2019
92 points, Steve Leszczynski, QWine, Sep 2019
2018
96 points, James Halliday, Australian Wine Companion, Aug 2019
93 points, Campbell Mattinson, The Real Review, May 2019
92 points, Toni Paterson, The Real Review, Jan 2019
"Effortlessly Impressive", Windsor Dobbin, Wine of the Week, Dec 2018
18.25 points, Regan Drew, Vinonotebook, Nov 2018
92 points, Huon Hooke, The Real Review, Nov 2018
96 points, James Halliday, Top 100, Nov 2018
91 points, Steve Leszczynski, QWine, Sep 2018
2017
18 points, Regan Drew, Vinonotebook, Dec 2017
93 points, Toni Paterson, The Real Review, Dec 2017
91 points, Campbell Mattinson, Fine Wine Club, Nov 2017
18.5 points, Barry Weinman, Fine Wine Club, Oct 2017
2016 Vintage
95 points, James Halliday, Australian Wine Companion, Aug 2017
'All Class', Regan Drew, Vinonotebook, Nov 2016
18 points, Barry Weinman, Fine Wine Club, Oct 2016
2015 Vintage
95 points, James Halliday, Australian Wine Companion, Aug 2016
'All Class', Regan Drew, APN ARM, Nov 2015
18 points, Barry Weinman, Fine Wine Club, Oct 2015
2014 Vintage
93 points, Ray Jordan, WA Wine Guide, Nov 2015
94 points, James Halliday, Australian Wine Companion, Jul 2015
98 points, Justin Knock, Decanter Magazine, Apr 2015
18.3 points, Barry Weinman, Fine Wine Club, Dec 2014
92 points, Campbell Mattinson, The Wine Front, Aug 2014
2013 Vintage
95 points, James Halliday, Australian Wine Companion, Dec 2013
93 points, David Prestipino, Sunday Times Magazine, Nov 2013
92 points, Huon Hooke, Nov 2013
93 points, Ray Jordan, WA Wine Guide, Oct 2013
18 points, Barry Weinman, Fine Wine Club, Mar 2014
2012 Vintage
94 points, Ray Jordan, WA Wine Guide, Nov 2013
94 points, James Halliday, Australian Wine Companion, Jul 2013