2021 Singlefile Great Southern Chilled Red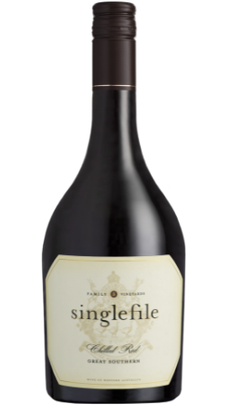 VINEYARD & WINEMAKING
This wine is produced from a blend of pinot noir and pinot meunièr. The fruit was hand picked from the home vineyard on 16th March 2021. The fruit was chilled overnight and placed into a CO2 saturated open fermenter and sealed. The fermentation started naturally, involving 100% whole bunch carbonic maceration for approximately six weeks. This is a technique employed in the production of Beaujolais Nouveau wines where the fermentation occurs within the grape berry without maceration of the grapes.
The berries were tasted and tested regularly. The whole bunches were then pressed at approximately 3 Baume with fermentation was then completed in stainless steel tank to dryness. A very small quantity of naturally high acid sparkling Pinot Noir was added to provide some acid lift. The wine was unfined and lightly filtered prior to bottling.
THE WINE
The wine displays the hallmark characteristics of the Nouveau style. Intense, lifted strawberry and confectionary aromatics with some earthy/mushroom notes. The palate is lively and supple with little tannin influence. Its complexity and intriguing character is gained through the natural fruit intensity and the unique fermentation process. Best enjoyed as a young wine and at approximately 12°C.
Join the waitlist for our Great Southern Chilled Red to be the first to know when it is released.
CRITIC REVIEWS OF NOTE
2021 Vintage
New Release
Product Reviews
Andy Saunders
(23/01/2022 at 11:00 PM)
Opened up my bottle from the Christmas Pack the other evening desperate for a red during the recent hot weather. Was just what the doctor ordered. A lovely distinctive Pinot flavour with a fruity aroma. Just hanging out for when it becomes available again
Kaya
(24/04/2022 at 5:01 PM)
Wow! Extremely complex and interesting which I wasn't expecting! A wine to be discussed amongst fine friends. Extremely driven by strawberry flavour, maple sweetness and low acidity ripe red berries countered with earthy aroma and pink peppercorns. Crisp and refreshing, this is on my list to get next year! Perfect to debate with on a balmy afternoon after a salty swim in Bremmer Bay! No food needed.
Aliesha
(08/09/2022 at 5:56 PM)
Yeah this one is surprising. It has a lighter colour and flavour than I was expecting. Crisp. Good acidity and lovely cherry vibes. I'll definitely grab this one for a summer bevy with the girls. Wish I had a antipasto spread right now!!