2020 Singlefile Small Batch Petit Verdot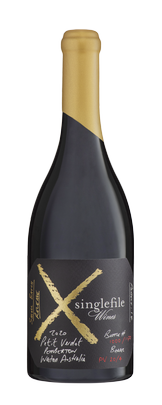 VINEYARD & WINEMAKING
Petit verdot is a classic variety used in high-quality Bordeaux blends, though rarely mentioned on the front label or seen as a straight varietal wine. This is especially true in Bordeaux where the fruit ripens later than cabernet and is only used in small amounts (less than 5%) to add colour, tannin structure and aromatics. A few vineyard sites in Western Australia are well suited to petit verdot, showcasing it at full ripeness, displaying expressions of black fruit, minerality and pronounced floral and herbal notes.
This 2020 parcel was originally planned for our cabernet blend but it looked too good in the barrel for blending. Grown in the Pemberton region, the petit verdot has become well adapted to the rich soils of this region. Harvested on 2nd April 2020, the fruit was picked and cold soaked for three days in a small open fermenter. Wild fermentation was encouraged to start the ferment before a selected yeast strain was added. The wine was pressed into French oak barrels where it stayed for ten months before bottling.
THE WINE
This wine displays bright and vibrant aromas of dark berries, plum and violet against a background of cedar and some graphite minerality. The fruit characters follow through on the palate with dark fruit, blackberry and a subtle savoury edge. A pleasing medium weight and textured mouthfeel lead to complex, dry tannins and a flavoursome soft finish. We expect the wine to age well in bottle with cellaring potential of 15 years. This wine is best enjoyed with fine food, and bold enough to pair with flavoursome dishes such as barbeque, spiced and smoked meats, as well as hard aged cheeses.
CRITIC REVIEWS OF NOTE
2020
96 points, Gold, Wine Showcase Magazine New Releases Tasting, July 2022
Wine Specs
Appellation
Frankland River
Product Reviews
Ben
(22/11/2022 at 11:07 AM)
Power in a glass. The only reason I rate this wine a 4 is it is too young to properly appreciate right now. To revisit this wine in 5 or 10 years and you'll meet a totally different beast. The wine has a beautiful purple hint around the rim of the glass, with a nose of spice and oak, along with the black fruits that are the backbone of the flavours that will come to bear. In the mouth the tannins are clear and present, but not unbearable. The wine has a long finish, allowing you to savour the black plum, mulberry and blackberry fruits. The oak is evident and provides balance, although I suspect the use of oak will be better appreciated in time as the wine ages. This is a complex wine in its youth. It will reward cellaring now, but also will pair with barbecued steaks or a roast lamb leg now.
Pip
(22/11/2022 at 10:25 PM)
After a proper decant this wine was 5 star until the very last drop. The wine is deep, dark red in colour. It has a rich taste of dark berries and has a long finish. When smelling it has a sweetness, that is very pleasant. Would pair well with smoked meats or a steak, or if you are like me then on it's own is perfect too. All in all, it was delicious.
Janelle
(06/02/2023 at 12:58 PM)
A deep red in colour with an earthy smell. Very fruit front on the palette & very rich. Quite a drinkable wine. Quite a smooth wine, yet still very young in the bottle, will be even more amazing over time. Definitely an investment for the cellar!