Singlefile -x- Spirit of Little Things Chardonnay Gin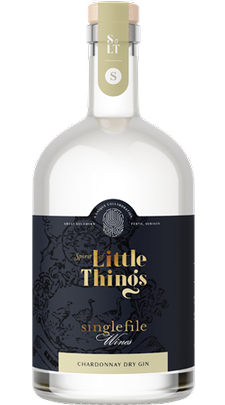 THE COLLABORATION
Singlefile Wines and the team at Spirit of Little Things experimented with distilling a base gin using juniper, fresh stone fruits and native Australian botanicals. They finalised a blend, the goal being to produce a complimentary spirit for chardonnay grapes.
The chardonnay grapes were hand harvested as whole bunches on 2nd April 2023 from the Singlefile Vineyard in Denmark, Great Southern, and transported in refrigeration so they arrived fresh to the distillery.
The fresh grapes were then macerated in the base spirit blend for approximately 6-weeks to impart rich, aromatic chardonnay flavours. The infused spirit was distilled again to balance the chardonnay flavour profile and produce a clean dry-style gin with subtle elegant chardonnay notes.
THE GIN
A classic dry-style gin, artfully blended with fresh stone fruit, piney juniper notes, and a hint of vanilla. This gin is enriched with premium Singlefile chardonnay grapes, infusing a unique, earthy fruit note reminiscent of our celebrated Denmark chardonnays. Perfect for refreshing summer G&Ts and classic martinis. Best served with a light tonic or soda and fresh lime.
Why not try both? Discover our Pinot Noir Gin: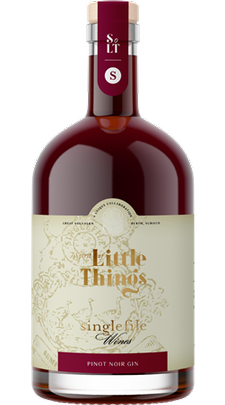 View Pinot Noir Gin