Singlefile -x- Spirit of Little Things Pinot Noir Gin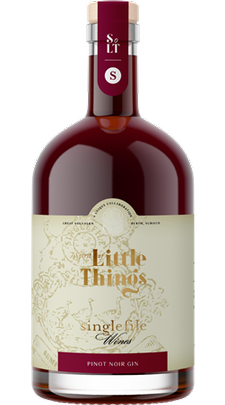 THE COLLABORATION
Singlefile Wines and the team at Spirit of Little Things experimented with distilling a base gin, modelled on a classic Australian Dry style. They finalised a style that delivered notes of native saltbush, sea parsley, juniper and native aniseed, making the perfect base to receive the robust pinot noir grapes.
The pinot noir grapes were hand harvested as whole bunches on 2nd April 2023 from the Singlefile Vineyard in Denmark, Great Southern, and transported in refrigeration so they arrived fresh to the distillery.
The fresh grapes were then macerated in the base spirit for approximately 12 weeks, until the natural sugars, aroma and tannins were extracted to produce a flavour-packed grape-style gin. Once maceration was complete, the spirit was filtered and the remaining grapes, including skins and stems, were basket-pressed by hand to extract the remaining pinot noir characteristics.
The infused spirit was distilled again to produce a bold gin that perfectly balances the aromatics and sweetness of the pinot noir grapes with dry gin characteristics.
THE GIN
A slightly sweeter gin in the vein of a "Sloe" style, but with no added sugar and only the natural sweetness of the Great Southern pinot noir grapes. The result is a jammy, robust gin with pepper notes and a beautiful tannin finish. It drinks as a sipping gin, mixed with a dry ginger ale or blended with Vermouth and Campari for a "Pinot Negroni".
Why not try both? Discover our Chardonnay Gin: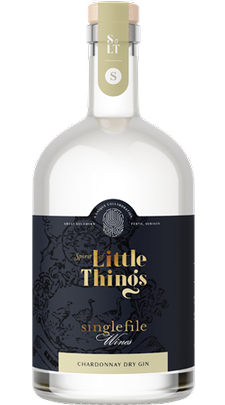 View Chardonnay Gin