Viv's Pumpkin Gnocchi with Sage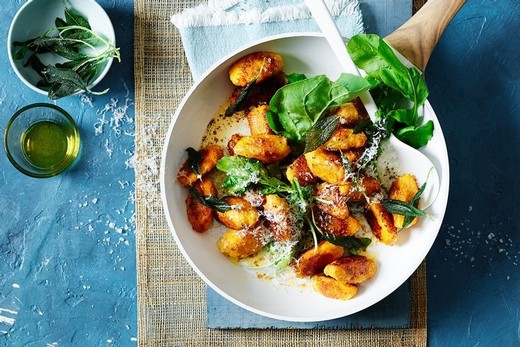 Ingredients
1200 g butternut pumpkin, halved, seeds removed
600 g large desiree potatoes
150 g plain flour
1 egg, lightly beaten, plus 2 lightly beaten egg yolks
80 ml extra virgin olive oil, plus extra to drizzle
1 bunch sage, whole sprigs separated
120 g unsalted butter, chopped
1 bunch rocket
Sunflower Oil, to shallow-fry
Parmesan, to serve
Directions
Recipe and image courtesy of delicious.com.au.
Preheat oven to 200°C. Place pumpkin, cut-side up, and potatoes on 2 separate large baking trays. Roast for 1 hour or until both are very tender in centre. Remove from oven. Scoop out pumpkin flesh, place in a colander over a large bowl and drain. Discard skin. Refrigerate until cool enough to handle. Meanwhile, halve the potatoes and scoop out flesh. Discard skin. Pass flesh through a ricer into a large bowl (you will need 450g of potato). When pumpkin is cool enough to handle, place in a clean tea towel and wring out as much water as possible. Place in bowl with potato.

To make the gnocchi, scatter flour and nutmeg over the pumpkin and potato mixture. Add egg and yolks. Season well. Using your hands, mix gently until just combined (if you overmix it, your gnocchi will be tough and chewy).

Line 3 large baking trays with baking paper and lightly flour. Bring a large saucepan of water to the boil over high heat. Reduce heat to medium and reduce water to a simmer. Using 2 dessert spoons, shape spoonfuls of gnocchi mixture into ovals and place on prepared trays.

In batches, drop gnocchi gently into the simmering water, adding only as much as the pan can handle. Cook for 1-2 minutes or until gnocchi float to surface. Remove with a slotted spoon, drain well and place in iced water until cooled completely. Drain and place on a large tray lined with paper towel, making sure gnocchi is drained thoroughly. Transfer to a large bowl, season and drizzle with olive oil.

Meanwhile, heat 1cm sunflower oil in a small frypan over high heat. Add sage sprigs and cook for 1 minute or until crisp. Remove using a slotted spoon and drain on paper towel.

Heat a large frypan over high heat. Add one-quarter olive oil and one-quarter butter. Heat until butter begins to foam. Add one-quarter gnocchi and cook, tossing, for 3-4 minutes or until gnocchi is golden. Transfer to a large heatproof bowl, cover loosely with foil and keep warm. Repeat a further 3 times with remaining oil, butter and gnocchi. Place rocket in the centre of each plate and top with gnocchi. Scatter with grated parmesan and fried sage to serve.