2018 Singlefile 'The Vivienne' Denmark Chardonnay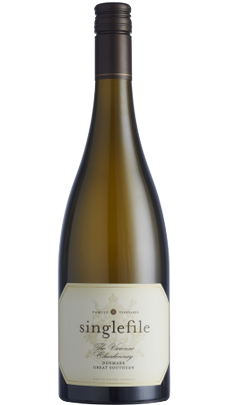 VINEYARD & WINEMAKING
The 2018 vintage was ideal due to the even temperatures, combined with the robust management program developed on the basis of soil sampling designed to maintain a desirable soil balance with emphasis on improving natural microbial activity.
'The Vivienne' Chardonnay aims to capture the essence of our chardonnay vineyard from multiple perspectives, comprising three separate passes of hand picking from different panels of the vineyard in late February, early March and mid March 2018 based on optimal ripeness in the selected areas of the vineyard.
Each parcel was chilled overnight before whole bunch pressing direct to new and seasoned French barriques, for fermentation on full solids by natural yeasts, followed by nine months ageing on lees before bottling in February 2019. The wine is then bottle aged for another 18 months.
The resulting wine surpassed our expectations, revealing nuances we had only guessed at, tightly wound together along a line of textural precision.
Only 128 cases of 'The Vivienne' was produced in 2018. This wine will only be made in exceptional vintages.
THE WINE
Fine aromatics, reminiscent of floral, citrus and flint, build in intensity as the wine breathes in the glass, to show layers of funky wild ferment and lees-derived complexity. The palate has great depth of flavour, with clarity and poise, all the elements following a long line of mineral acidity.
CRITIC REVIEWS OF NOTE
2018 Vintage
97 points, value rosette, James Halliday, 2022 Halliday Wine Companion, Aug 2021
5 stars, Huon Hooke, The Real Review, Apr 2021
4.5 stars, Winestate Magazine, March/April 2021
2017 Vintage
4 stars, James Suckling, jamessuckling.com, Mar 2020
98 points, Top 100 Wines, James Halliday, Australian Wine Companion, Nov 2019
2016 Vintage
96 points, James Halliday, Australian Wine Companion, Aug 2019
93 points, James Suckling, jamessuckling.com, Jun 2019
96 points, Sarah Ahmed, Decanter Magazine, Mar 2019
17.0 points, Tamlyn Currin, JancisRobinson.com, Dec 2018
2015 Vintage
Australia's Best Chardonnay, James Halliday, Australian Wine Companion, Aug 2018
98 points, James Halliday, Australian Wine Companion, Aug 2018
95 points, Campbell Mattinson, The Wine Front, Jun 2018
18.5+ points, Barry Weinman, Fine Wine Club, May 2018
95 points, QWine, May 2018
92 points, Huon Hook, The Real Review, Jul 2018
2014 Vintage
98 points, James Halliday, Australian Wine Companion, Aug 2017
19 points, Regan Drew, vinonotebook.com, Oct 2017
18.5+ points, Barry Weinman, Fine Wine Club, July 2017
2013 Vintage
96 points, James Halliday, Australian Wine Companion, Jul 2015
96 points, Campbell Mattinson, The Wine Front, May 2016
95 points, Huon Hooke, Aug 2016
92 points, Jeremy Oliver
2012 Vintage
97 points, James Halliday, Australian Wine Companion, Mar 2014
97 points, Gourmet Traveller Wine Magazine, Feb 2015
95 points, Huon Hooke, Nov 2014
18.5 points, Barry Weinman, Fine Wine Club
95 points, Gary Walsh, The Wine Front
'Simply Wonderful', Regan Drew, Vinonotebook, Aug 2015