Seared snapper and soy ginger noodles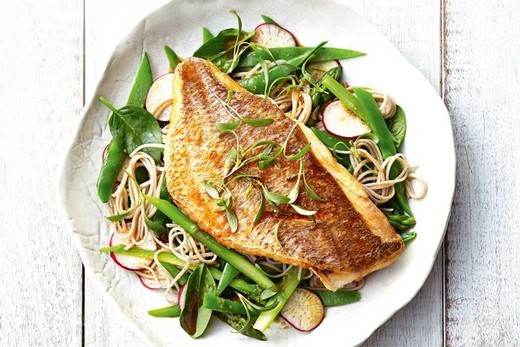 Laura Warren, a very dear friend of Phil and Viv and Wine Club member, recently made this dish for them for dinner. It matched perfectly to our Riesling - lovely balance of the right acidity and flavour was delicious with the salmon. This recipe and image is courtesy of taste.com.au.
Ingredients
180 g dried soba noodles
200 g snow peas, trimmed, thinly sliced
1 large bunch of asparagus, trimmed, halved
50 g baby spinach leaves
5 small radishes, trimmed, thinly sliced
2 tsp sesame oil
2 tbsp salt-reduced soy sauce
1 tbsp mirin
1 tsp fresh ginger, finely grated
1/2 tsp caster sugar
600 g snapper fillets (ideally 150g each)
baby herbs, to serve
Directions
Step 1
Cook the soba noodles in a saucepan of boiling water following packet directions, adding the snow peas and asparagus in the last minute of cooking. Drain. Refresh under cold running water. Drain.
Step 2
Transfer noodles and vegetables to a large bowl. Add the spinach, radish and 1 tsp sesame oil. Gently toss to combine.
Step 3
Combine the soy, mirin, ginger, sugar and remaining sesame oil in a small bowl. Stir until sugar dissolves.
Step 4
Heat a large non-stick frying pan over high heat. Spray with olive oil. Use a sharp knife to score the skin of the snapper. Cook the snapper, skin-side down, for 2 minutes or until crisp. Carefully turn. Cook for a further 1-2 minutes or until just cooked through.
Step 5
Divide noodles and vegies among plates. Top with snapper. Drizzle with the soy dressing and sprinkle with herbs.