Deep-fried Zucchini Flowers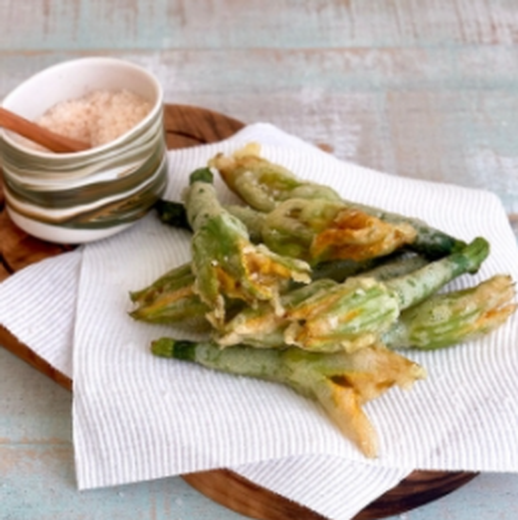 Recipe Date:
25 September 2020
We share this recipe from the delightful Roberta of food-wine-travel.com fame. Roberta Muir – cookbook author, food writer and manager of Sydney Seafood School – has a passion for good cooking, eating and drinking, and exciting travel. Roberta fell in love with this dish at the renown Buon Ricordo and shares her version with us below. We thank Roberta for sharing her delicious recipe and recommend you head to her website for more fantastic dishes. Recipe by Roberta Muir, for more of her recipes, subscribe to her food-wine-travel newsletter (https://www.food-wine-travel.com/subscribe/) and check out her website. https://www.food-wine-travel.com/recipes-2/)
Ingredients
1 g instant dried yeast (1/4 teaspoon)
180 ml lukewarm water
100 g plain flour
1 Olive oil, for deep frying
1 Salt flakes, to taste
12 zucchini flowers
Directions
Recipe by Roberta Muir, for more of her recipes, subscribe to her food-wine-travel newsletter and check out her website.
Combine yeast and water and set aside for 5-10 minutes, until yeast starts to froth.

Sift in flour and combine to form a thin batter.

Cover with a clean, dry cloth and set aside in a warm spot for 30-60 minutes.

Meanwhile, gently open petals and pinch out the stamen from the centre of the flowers.

Heat oil in a deep-sided frying pan or wok.

Working in batches so as not to overcrowd the oil, hold each flower by the end of the zucchini or stem, swirl through the batter, drain off the excess and lower into the oil.

Fry for a couple of minutes, until crisp, then drain on paper towel.

When all flowers are cooked, pile onto a platter, sprinkle generously with salt and eat immediately
NOTES:
Frying in olive oil may seem indulgent, but it gives a great taste. If you only have extra virgin olive oil on hand, you can fry in a blend of that and neutral vegetable oil. Strain cooled oil through a clean cloth or paper filter and store in a sealed container in the fridge to use again a couple of times within a month or so.
This recipe makes more batter than you need, but it's tricky measuring anything less than ¼ teaspoon of yeast. Store leftover batter covered in the fridge for up to a week and buy more flowers or use it to make bread: add enough plain flour to form a dough, knead for a few minutes until smooth, shape into a loaf or rolls and bake at 180°C for 20-30 minutes, until well coloured.