2023 Singlefile Great Southern Fiano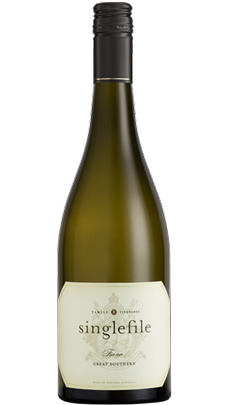 VINEYARD & WINEMAKING
The 2023 growing season delivered great conditions for growing the lesser known fiano varietal in the Great Southern region. There was good rainfall over winter. Spring was reasonably dry, and summer held slightly cooler temperatures which allowed for the fiano grapes to develop their flavour profile slowly while retaining natural acidity, which is ideal for premium fiano.
We picked the fruit early on 29 March 2023. We sorted the fruit and then pressed the fiano juice. The juice underwent a long and slow cold fermentation in a stainless-steel tank immediately after pressing to preserve the natural fruit characters. When the wine had completed the fermentation, it was racked off its lees. The purpose of this approach is to maintain the subtle textures and crisp finish found in the wine. It was prepared for bottling in September 2023.
THE WINE
A lighter style fiano with lifted aromas of lemon and spice. These aromatics follow through on the palate, enhanced further with a softly textured mouth feel and some subtle nutty flavours on the finish. This wine is well suited to complement light, fresh white meat and seafood dishes. It can be enjoyed now, or allow the wine to continue to develop in the bottle for up to 5 years.
PREVIOUS RELEASES
CRITIC REVIEWS OF NOTE
2023 Vintage
New Release
2022 Vintage
97 points, Top in Category, Winestate Magazine, Italian, Spanish & Portuguese Varietal Awards, Mar/Apr 2023
2021 Vintage
92 points, Winestate Magazine, New Release Wine Awards, Nov/Dec 2021
Product Reviews
Pam Herron
(22/08/2022 at 11:53 PM)
We had the pleasure of drinking a bottle of the 2022 Great Southern Fiano recently and it went perfectly with Red Emperor fish. Not as heavy as a Chardonnay but much more body than the Sauvignon Blanc. It was a fruity, spicy wine that should benefit from a couple of years in the cellar.
Aliesha
(04/09/2022 at 7:20 PM)
I enjoyed this wine after a dry spell and it was worth the wait! Beautiful light fresh colour and subtle pleasant floral aroma. I enjoyed it with a tomato based dish with heavy garlic and spicy rice - on first sip it made my mouth water and I took a few more! It has a complex undertone to it but would suit a person partial to a Sauvignon Blanc. I would recommend this as a summer drop on a lazy evening.
Hannah
(04/12/2023 at 2:09 PM)
This wine is the perfect wine for a summer evening with friends. Medium body which can appeal to those who enjoy either a lighter white wine or a heavier chardonnay. If you are looking for something to accompany seafood, this is your drop. We had this with creamy garlic prawns and it was absolutely spectacular.