2023 Run Free by Singlefile Sauvignon Blanc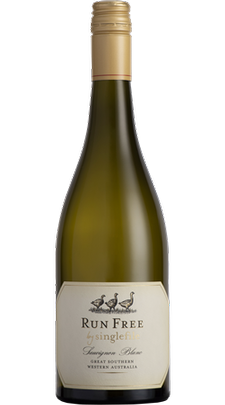 VINEYARD & WINEMAKING
The Great Southern growing season saw plenty of rainfall and mild weather which encouraged good ripening conditions. The cooler growing conditions allowed for strong varietal characteristics of sauvignon blanc to shine through.
This 2023 sauvignon blanc was picked in pristine conditions in late-March 2023. The fruit was destemmed and pressed, the juice transferred directly into stainless steel tanks and temperature controlled to ensure a slow and gentle fermentation. A small portion was barrel fermented in French oak barrels for 2 months to add subtle texture to the palate. After fermentation, the wine was kept on its lees and gently stirred weekly until a delicate balance between primary fruit characters and texture was achieved.
THE WINE
The wine shows aromatics of crisp green apple, passionfruit and jasmine blossom. The palate displays a subtle richness while still retaining the freshness that one comes to expect from good sauvignon blanc. Stone fruit flavours are supported by refreshing Granny Smith apple and grapefruit notes, with a pleasant, zippy acidity. The finish is lingering and clean.
PREVIOUS RELEASE
2022 Vintage
2021 Vintage
2020 Vintage
2019 Vintage
2018 Vintage
CRITIC REVIEWS OF NOTE
2023 Vintage
New Release
2020 Vintage
4.5 stars, New Releases, Winestate Magazine, May/June 2021
2019 Vintage
4.5 stars, Best Wines of 2020, New Releases, Winestate Magazine, Annual Edition 2021
92 points, value rosette, James Halliday, Australian Wine Companion, Aug 2020
4.5 stars, Equal Top in Category, Winestate Magazine, Feb 2020
2018 Vintage
95 points, James Halliday, Australian Wine Companion, Aug 2019
16.0 points, Tamlyn Currin, JancisRobinson.com, Dec 2018
17.5 points, Barry Weinman, Fine Wine Club, Mar 2019
90 points, Ray Jordan, Western Suburbs Weekly, Jan 2019
18.25 points, Regan Drew, Vinonotebook, Dec 2018
95 points, James Halliday, Top 100, Nov 2018
Product Reviews
Andrew Boyd
(26/01/2020 at 1:26 PM)
Tainted as I have been by the unpleasant characters of some Sav Blanc wines, to me this wine was a pleasant epiphany. The restrained, elegant bouquet was followed by a wine with the rich fruit flavours and dry wine characteristics that made it an ideal lunch time accompaniment.
Brooke
(08/03/2020 at 9:31 PM)
This wine was fruity, crisp and refreshing. A nice dry white that is best enjoyed crispy cold. We just had it on its own but also be paired nicely with a cheese/fruit platter. Very nice indeed
Alice
(21/03/2020 at 1:08 PM)
This is a lovely wine that we enjoyed with friends over dinner. It was effortless and light and paired beautifully with our chicken dish.
Denni
(28/03/2020 at 5:55 PM)
I do enjoy a Saivignon blanc and this one was very enjoyable with a very crisp, clean palate. Would definitely purchase this one again!
Nicole P
(01/04/2020 at 8:20 PM)
Who doesn't love a cheeky little sav blanc?? Well this one is particularly yummy! Light and super easy to drink. I enjoyed this with Thai food and it was amazing!
Aliesha
(29/09/2022 at 3:23 PM)
Oh my word. I just enjoyed this one served up with a creamy Mumbai spice curry (halloumi vegetarian alternative) and I am in heaven. First super warm day for the season and feel like I'm on Christmas holidays.
Emily
(24/10/2022 at 2:54 PM)
This wine reminds me of a warm night with a clear starry sky, it's refreshing yet complex. A gentle lemon acidity at the front with a buttery finish to balance. A light and delicious wine.