White Sangria with Peaches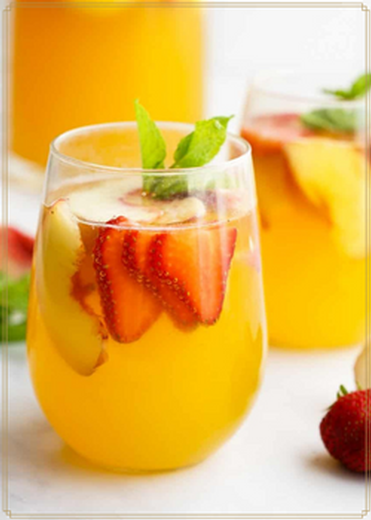 Recipe Date:
12 August 2022
Ingredients
1 bottle (750ml) Pinot Grigio or other dry, fruity white wine
2 1/2 cups peach nectar
2 cups soda water
1/4 cup brandy
1/4 cup caster sugar (or more to taste)
1/4 cup water, boiled and cooled slightly
2-3 white peaches, stone removed and sliced
3-4 strawberries, sliced
mint leaves, to garnish
Directions
The day before, refrigerate the wine, peach nectar, soda water and fruits so that they are cold.
In a large jug, combine wine, peach nectar, soda water and brandy. Stir well to mix.
In a small glass, combine the sugar and water to make a syrup. Add to jug with other liquids and stir to combine.
Slice fruit and add most to jug, gently stir to mix. Prepare serving glasses with some ice, a couple of slices of peach and strawberry, and a sprig of mint. Serve and enjoy!
Adapted from a recipe by Joyous Apron