Vienna Tart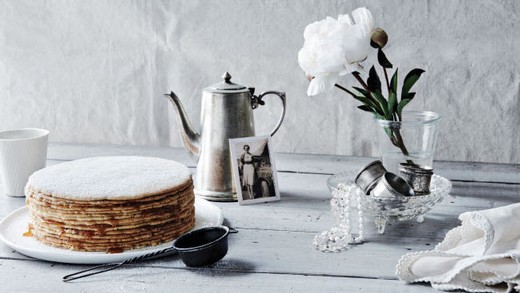 Recipe Date:
15 October 2015
Ingredients
1 Cup caster sugar
1 Egg
5 Cups plain flour
1 Tsp baking powder
450 g Butter, chopped
1 Egg, extra, lightly beaten
450 g Smooth apricot jam
Directions
1. To make dough
Preheat oven to 180°C.

Whisk sugar and egg in a bowl until combined. Sift flour, baking powder and salt into a large bowl. Using your fingertips, rub butter into flour mixture until it resembles fine breadcrumbs. Add sugar mixture and knead in bowl until smooth and combined. (Dough should resemble very short pastry and be easy to work.) If required, add 1 tablespoon water and knead until combined.
2. Baking
Divide dough into 16 equal portions. Turn two 20cm round cake pans (not springform) upside down and place on baking trays. Press 1 portion of dough evenly over base of each pan and brush with extra beaten egg. Bake for 10 minutes or until golden brown. Remove from oven and set aside for 1–2 minutes to rest and firm.
3. To make
Using a spatula or egglifter, carefully slide 1 shortbread disc onto a plate. Immediately spread 1–2 tablespoons of apricot jam over shortbread. Repeat with remaining shortbread disc and 1–2 tablespoons of jam.

Repeat with remaining dough portions and remaining apricot jam, finishing with a shortbread disc. Cool completely.
4. Finish and serve
Once cooled, dust with icing sugar. To serve, cut tart straight across into thin slices, then cut into dainty fingers.
As published by: Country Style Magazine