Steak & Blue Cheese Melts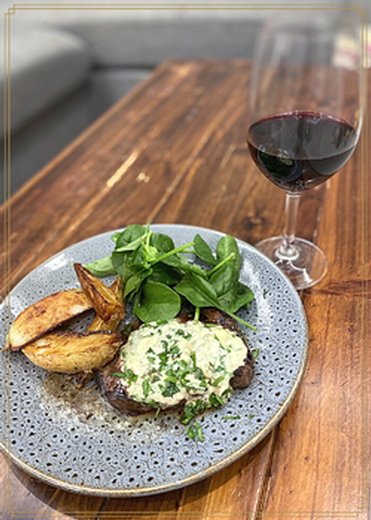 Recipe Date:
1 September 2022
Ingredients
2 thick sirloin steaks (or cut of your choice)
2 TBSP balsamic vinegar
1 TBSP olive oil
2 tsp full fat crème fraîche
50 g creamy blue cheese
1 tsp chopped parsley, plus extra to garnish
Directions
Remove steak from the fridge about 20 minutes before you start to prepare the dish.
Place steak in a large, non-metallic dish and drizzle with the balsamic vinegar and olive oil to coat. Set aside to marinate for 10 minutes.
Meanwhile, put the crème fraîche into a small bowl, crumble in the blue cheese, and stir in the chopped parsley. Season with black pepper to taste, stir to combine, and set aside.
Preheat your grill to high, and heat an oven-proof griddle pan or frying pan over high heat. When searing hot, add the steaks and cook for 2 minutes each side, until medium rare.
Spoon the cheese mixture on top of each steak and pop under the grill for 1-2 minutes until warmed and lightly grilled. Divide between two plates, and scatter with extra parsley. Serve with a mixed salad, lightly cooked greens, or some chips, if you like.