Spicy Pork & Shiitake Udon Noodles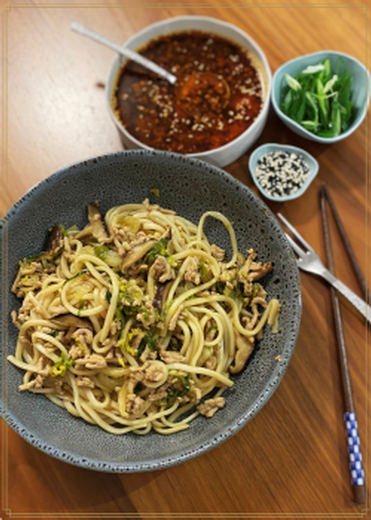 Ingredients
3 tbsp extra virgin olive oil
500 g pork mince
4 garlic cloves, roughly chopped
2 cm piece of ginger, finely chopped or grated
2 spring onions, finely chopped (plus extra, sliced, to garnish)
100 g fresh shiitake mushrooms, sliced
500 g (about 1/2) wombok (Chinese cabbage), finely sliced
80 ml (1/3 cup) light soy sauce
80 ml (1/3 cup) mirin
80 ml (1/3 cup) saké (for cooking)
1 tsp caster sugar
400 g dried udon noodles
toasted white & black sesame seeds and sesame oil, to serve
~ CHILLI OIL ~
200 ml vegetable oil
4 garlic cloves, finely chopped or crushed
2 cm piece of ginger, finely chopped or grated
2 spring onions, finely sliced
2 tbsp dried chilli flakes
1 tsp hot chilli powder
1 tbsp white sesame seeds
1 tsp sea salt
Directions
To make the chilli oil, heat the vegetable oil in a small saucepan over medium heat. Add all other ingredients and fry for 1-2 minutes until fragrant and golden. Cool slightly, then transfer to a jar and set aside to cool completely.
Place a large saucepan of water on to boil (to cook the udon noodles).
Heat half the olive oil in a large wok or frying pan over high heat and brown the mince, breaking up lumps. Transfer the mince to a bowl, and reduce heat to medium.
Add remaining oil to pan and fry the garlic, ginger, spring onion and shiitake mushrooms for 3 minutes, until beginning to soften. Add the sliced wombok and toss until the wombok has begun to wilt. Return the mince to the pan, and add soy, mirin, saké and sugar, stirring well to combine. Simmer until the sauce has reduced slightly, and the cabbage is cooked, but not too soft.
Meanwhile, cook the udon noodles according to the packet instructions. Once they are tender, drain and rinse, then add to the pan with all other ingredients, tossing to coat.
Serve in generous bowls with extra spring onion, sesame seeds and sesame oil to garnish, and spoon over chilli oil to taste.
Recipe from Julia Busuttil Nishimura's excellent cookbook 'A Year of Simple Family Food'. A winter favourite for Claire, from our Perth team, who has served it to both fusspots and mushroom haters - everyone loves it!