Smoked Ham Hock Macaroni & Cheese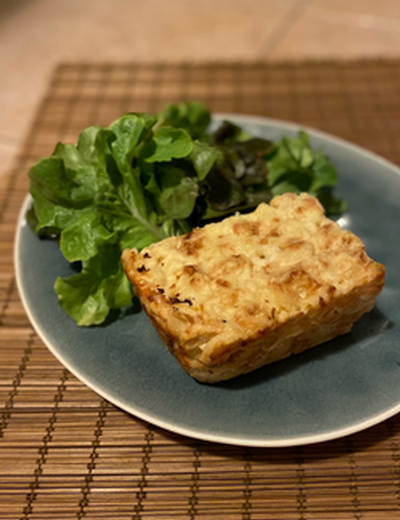 Recipe Date:
20 January 2022
Ingredients
1 smoked ham hock
500 g macaroni pasta
1 onion, finely sliced
2 cloves garlic, finely chopped or crushed
100 ml dry white wine
75 g butter
75 g plain flour
2 tsp Dijon mustard
1.5 l milk
200 g mozzarella cheese, coarsely grated
125 g parmesan cheese, finely grated
Directions
Place ham hock in a large pot and cover with plenty of water. Bring to the boil, then add macaroni to the same pot and cook until just al dente.
Strain the pasta, reserving ham hock water, and set aside ham hock and macaroni to cool. Preheat oven to 180°C.
Sauté onion until very soft, then add garlic and cook until fragrant. Deglaze the pan with the white wine, cooking until the liquid is slightly reduced. Add butter and stir until just melted. Gradually add the flour, whisking to prevent lumps. While stirring, cook out to a blond roux - about 3-4 minutes until a soft golden colour.
Add half a cup (125ml) of ham hock water and the mustard to the roux and stir to combine. Slowly add the milk, mixing well between each addition. (It will be quite a thin sauce, but will thicken after being simmered and once the cheese is added.) Simmer bechamel until smooth and creamy, and season with salt and pepper. Add mozzarella into bechamel and stir until melted.
Shred the meat from the ham hock, discarding skin and bone, and mix the shredded ham and macaroni through the bechamel.
Line a deep baking tray (about 20 x 30 cm) with baking paper and pour macaroni mixture into tray, pressing down evenly. Cover with a layer of baking paper and then tightly cover in foil, and bake for 45 minutes. Remove the foil and baking paper, sprinkle the parmesan evenly over the top, and return to oven until golden brown and bubbling.
Cut into squares to serve with a fresh salad. You can also freeze portions to heat and eat later.
Will feed six very hungry adults!