Slow-Cooked Smoky Beef with Herb & Cheese Twists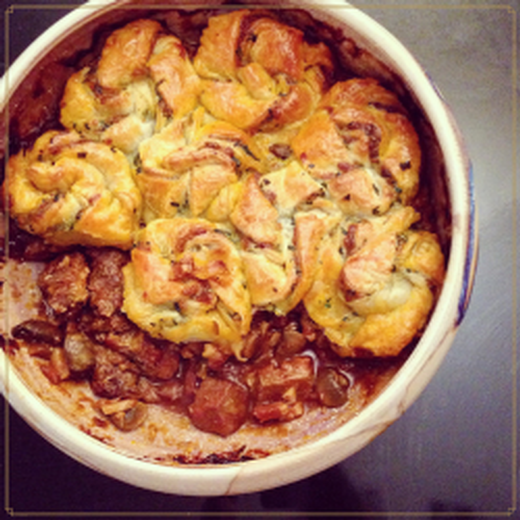 Recipe Date:
17 August 2023
Ingredients
2 tbsp extra virgin olive oil
2kg beef chuck, excess fat trimmed, cut into 3cm pieces
300g speck, rind removed, cut into batons
2 brown onions, finely chopped
4 cloves garlic, crushed
1 tbsp smoked paprika
1 1/2 cups (375mL) good quality beef stock
1 cup (250mL) pale ale
90g (1/3 cup) tomato paste
2 stalks fresh rosemary
500g swiss brown mushrooms, halved (larger mushrooms quartered)
~ FOR THE CHEESE & HERB TWISTS ~
130g (1 1/4 cups) coarsely grated mozzarella
1/3 cup chopped flat-leaf parsley (loosely packed)
2 tbsp chopped fresh chives
1 egg, (plus an extra egg to brush)
2 sheets butter puff pastry, just thawed
Directions
Heat half the oil in a large flameproof casserole dish over medium-high heat. In batches, cook the beef, turning, for 4-5 minutes or until browned. Transfer to a large heatproof bowl. (*Note: if you don't have a flameproof casserole dish, you can use a soup pot or frying pan and transfer to a baking dish before transferring to oven).
Reduce pan to medium heat and add the remaining oil. Add speck and onion, and cook, stirring occasionally, for 5 minutes or until the onion softens. Add the garlic and paprika and stir for 30 seconds or until aromatic. Add the stock, pale ale, tomato paste and rosemary. Cover and bring to the boil. Add the beef back to the pan. Reduce the heat to low and simmer, partially covered, for 1 hour. Stir in the mushrooms and simmer for a further 1 hour 10 minutes, or until the meat is tender and the liquid has reduced and thickened.
Meanwhile, after adding the mushrooms to the beef mixture, preheat the oven to 200°C (180°C fan-forced) and prepare your cheese twists. Combine the cheese, parsley, chives and 1 egg in a bowl. Season to taste and mix well. Place one sheet of pastry on a piece of baking paper and use a rolling pin to roll out to a 30cm square. Spread with the cheese mixture. Top with second sheet of pastry and press the edges to seal. Cut the pastry into fourteen 2cm-thick strips. Transfer the sheet of paper with the pastry strips to a large baking tray. Place in the freezer for 15-20 minutes to chill.
Remove cheese strips from the freezer. Take one pastry strip and twist it to create a long cheese twist, then coil it into a circle, tucking the end underneath neatly. Place back on lined tray and repeat with the remaining pastry strips.
(*Note: If using a soup pot or frying pan to cook beef, transfer the mixture into a large 3L capacity ovenproof dish before adding topping). Arrange the twists on top of the beef mixture to completely cover the surface. Lay them on gently and do not press them into the filling, otherwise the liquid can make them soggy. Whisk the extra egg in a small bowl and use to brush onto the pastry twists. Bake for 40 minutes, or until pastry is golden and crisp. Sit for a few minutes before serving, with steamed greens if desired.
Recipe adapted from Michelle Southan in Taste Magazine, July 2016