Slow Cooked Lamb Shanks in Red Wine Sauce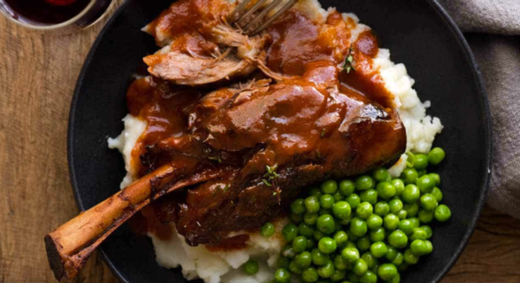 Recipe Date:
21 July 2020
RecipeTinEasts is a food blog with exciting new ideas . Created by Nagi, a Sydney northern suburbs cook, photographer and videographer with what she calls an unhealthy obsession with food, and her golden retriever Dozer. Visit recipetineats.com for all of Nagi's delicious recipes. We thank Nagi for allowing us to share her wonderful lamb dish and images.
Ingredients
4 lamb shanks (around 400gm each)
40 ml olive oil (between 40 - 60ml)
1 tsp each salt and pepper
1 cup onion, finely diced (brown, yellow or white)
3 garlic cloves, minced
1 cup carrot, finely diced
1 cup celery, finely diced
0.625 l full bodied red wine
800 g can crushed tomatoes
2 tbsp tomato paste
500 ml chicken stock, low sodium (or water)
5 sprigs of thyme (plus some for garnish)
2 dried bay leaves
Directions
Preheat the oven to 350F/180C.
Pat the lamb shanks dry and sprinkle with salt and pepper. Heat 2 tbsp of olive oil in a heavy based pot over high heat. Sear the lamb shanks in 2 batches until brown all over, about 5 minutes.Remove lamb onto a plate and drain excess fat (if any) from the pot.
Turn the heat down to medium low. Heat remaining 1 tbsp of olive oil in the same pot, if needed. Add the onion and garlic, cook for 2 minutes. Add carrot and celery. Cook for 5 minutes until onion is translucent and sweet. Add the red wine, chicken stock, crushed tomato, tomato paste, thyme and bay leaves. Stir to combine.
Place the lamb shanks into the pot, squeezing them in to fit so they are mostly submerged. (Note 1)
Turn stove up, bring to a simmer. Cover, then transfer to the oven for 2 hours (see notes for other cook methods).
Remove from oven, remove lid, then return to the oven for another 30 minutes (so 2 1/2 hours in total). Check to ensure lamb meat is ultra tender (use 2 forks) - if not, cover and keep cooking. Ideal is tender meat but still just holding onto bone.
Remove lamb onto plate and keep warm. Pick out and discard bay leaves and thyme. Strain the sauce into a bowl, pressing to extract all sauce out of the veggies (Note 5 for repurposing the veggies). Pour strained sauce back into pot. Bring to simmer over medium heat and reduce slightly to a syrupy consistency - I rarely need to. Taste then add salt and pepper to taste.
Serve the lamb shanks on mashed potato or cauliflower puree with plenty of sauce! Garnish with thyme leaves if desired.
Recipe Notes:
Visit Slow Cooked Lamb Shanks in Red Wine Sauce for Nagi's recipe notes and tips.