Siena Cake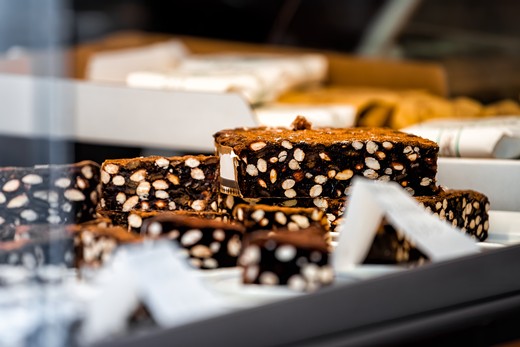 Recipe Date:
8 December 2020
Ingredients
110 g almonds
110 g hazelnuts
55 g dried apricots
55 g candied pineapple
55 g candied citrus peels (orange and lemon)
85 g flour
2 tablespoons cocoa powder
1 teaspoon ground cinnamon
55 g dark baking chocolate (70% cocoa)
70 g sugar
150 g honey
Directions
Chop almonds, hazelnuts, apricots, pineapple, orange and lemon peel together in a food processor.
Mix well with flour, cinnamon, and cocoa powder.
Put sugar and honey into a saucepan, stirring over medium heat until sugar is dissolved.
Bring to a boil, then reduce heat and simmer for 5 minutes.
Add chocolate to the saucepan, stir until melted, and remove from heat.
Combine with fruit and nut mixture; cut parchment paper circle to fit the bottom of 20cm well-buttered round cake pan, then butter the paper and evenly spread the batter into the pan.
Bake at 150 degrees C for 35 minutes.
Let cool in the pan.
Remove cake from pan, wrap in foil, and let stand overnight.
Sprinkle with icing sugar and cut into thin wedges to serve.
Wrapped in aluminum foil to stay air-tight, it will keep for weeks, refrigeration not needed.