Shepherd's Pie with Sweet Potato Mash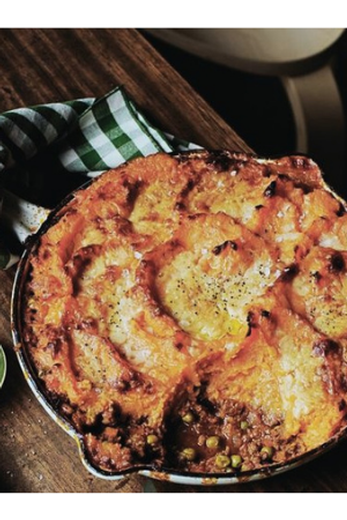 Recipe Date:
28 October 2021
Ingredients
2 TBSP extra virgin olive oil
1 onion, finely chopped
1 carrot, finely chopped
3 celery stalks, finely chopped
4 cloves garlic, crushed
500 g lamb mince
100 g tomato paste
0.25 tsp ground cloves
0.5 tsp ground cinnamon
2 tsp dried thyme
400 g tin chopped tomatoes
1 TBSP Worcestershire sauce
1 cup (120g) frozen peas
1 kg sweet potato, cut into 3cm chunks
30 g unsalted butter, melted
140 g grated cheddar cheese
400 g green beans, trimmed and steamed, to serve
Directions
Preheat oven to 200°C.
Heat oil in a large non-stick frypan over medium heat. Add onion, carrot, celery, garlic, and a pinch of salt flakes. Cook, stirring, for 5-6 minutes until softened. Add lamb mince and cook, breaking up with a wooden spoon, for 6-8 minutes or until browned all over. Add tomato paste, spices, and thyme and cook for 3-4 minutes until caramelised. Add chopped tomatoes, Worcestershire sauce and 200ml water and simmer for 15 minutes until thickened and reduced. Stir through the peas and season to taste.
Meanwhile, place sweet potato in a microwave safe bowl and cover. Microwave on high for 10-12 minutes until very tender. Mash or pass through a ricer, then stir in the hot melted butter, half of the cheddar cheese, and season to taste.
Spoon lamb mixture into a 1.5L capacity oven-proof dish and top with mash. Scatter over remaining cheddar cheese.
Place on a tray and bake for 25-30 minutes until golden and bubbling. Serve with steamed beans.
From delicious Magazine's September 2021 issue - tested and approved by Claire from Singlefile and her baby!