Shane Delia's 12-hour roast lamb with pistachio and green-olive tabbouleh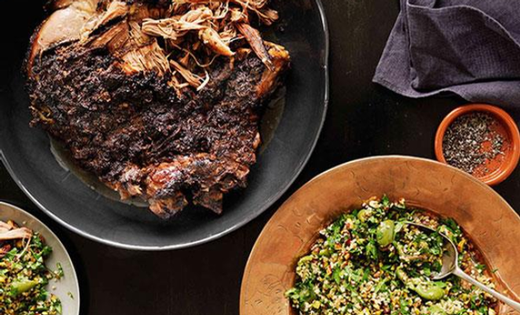 Ingredients
30 g (1/4 cup) cumin seeds
2 garlic heads
2 tbsp sumac
3 zested rind of lemons
2 tbsp sea salt flakes
1 lamb leg (2.4kg), shank end detached
200 g pistachio kernels
100 g coarse burghul
1 cup (loosely packed) flat-leaf parsely, coarsely chopped
1/3 cup (loosely packed) mint leaves, coarsely chopped
150 g Sicilian green olives, pitted, crushed
4 garlic cloves, crushed
1 finely grated rind and juice of lemon
2 tbsp olive oil
Directions
Recipe and image courtesy of Shane Delia - Maha Restaurant and gourmettraveller.com.au
Step 1
Dry-roast cumin seeds, cool slightly, then coarsely pound in a mortar and pestle and set aside. Pound garlic in a mortar and pestle with a pinch of sea salt until a coarse paste forms, add cumin seeds, sumac, lemon rind and sea salt flakes and grind until a paste forms.
Step 2
Score lamb with a sharp knife and rub garlic paste over lamb. Place in an airtight non-reactive container and refrigerate to marinate (2 days).
Step 3
Preheat oven to 110C. Transfer lamb to a roasting pan and roast, basting occassionally, until the meat falls from the bone and the outside is golden brown and sticky (12 hours). Remove from oven and keep warm.
Step 4
For green-olive tabbouleh, increase oven to 170C. Scatter pistachios on an oven tray and roast until golden (4-6 minutes). Cool, then coarsely crush and set aside in a large bowl. Meanwhile, place burghul in a bowl, cover completely with warm water and stand until tender (30-40 minutes). drain well, then add to pistachios with remaining ingredients, season to taste and serve with warm lamb.