Salmon Pastrami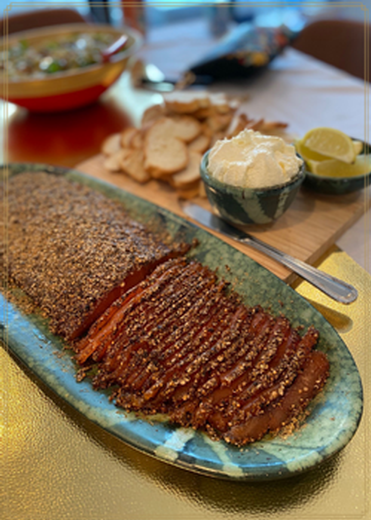 Recipe Date:
5 January 2023
Ingredients
1 side (1kg) salmon, skin removed and pin-boned
sliced baguette, to serve
labneh, to serve
lemon wedges, to serve
~ CURING SALT ~
25g coriander seeds
1 tbs caraway seeds
1 tbs black peppercorns
3 tsp cayenne pepper
4 dried bay leaves
500g rock salt
1 cup (250g) brown sugar
~ PASTRAMI SEASONING ~
25g coriander seeds
25g black peppercorns
25g yellow mustard seeds
12g juniper berries
80g date syrup
Directions
For the curing salt, lightly toast the coriander and caraway seeds in a dry pan. Coarsely crush spices and bay leaves using a mortar and pestle. Combine in a bowl with the rock salt and brown sugar.
Spread one third of the curing mixture onto a tray that fits the salmon snugly. Top with the salmon, and then spread over the remaining curing mixture, pressing gently and evenly onto the fish so that it is completely enclosed. Wrap tightly in plastic wrap, and chill for 24 hours to cure.
For pastrami seasoning, lightly toast the coriander seeds in a dry pan. Crush all ingredients except the date syrup in a mortar and pestle (or quickly blitz in a spice grinder, maintaining some texture) and set aside.
When ready to serve, gently wipe the curing mixture off the salmon, and discard the mixture. Rinse the salmon lightly, and pat dry gently with paper towel. Using the back of a spoon, spread date syrup all over salmon, on both sides, and coat generously with pastrami seasoning. Serve at the table with crusty sliced baguette, labneh and lemon wedges. (The salmon can be thinly sliced at the table to serve, and the leftovers returned to the fridge for the next day or two).
Note: to make your own labneh, simply mix 500g full fat plain yoghurt with 1/2 tsp salt flakes and stir to combine. Scoop yoghurt onto cheesecloth, muslin, or a clean Chux cloth and bring the edges of the cloth together to make a bundle. Tie around a wooden spoon and hang to drain over a small, deep bowl or container so that it doesn't touch the bottom. Chill overnight. The next day, unwrap the cheese and serve, discarding the liquid that has drained from the yoghurt.
Recipe from Michael Rantissi in delicious. magazine.