Roast Salmon with Fennel and Charred Onion Sauce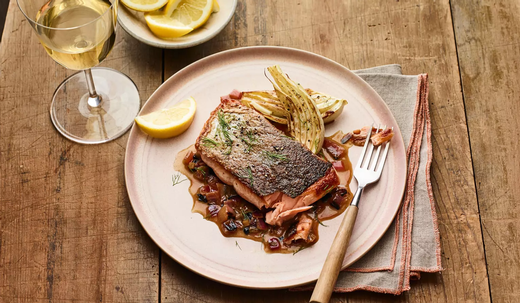 Recipe Date:
22 June 2020
Ingredients
2 fennel bulbs
4 red onions, medium-diced
2 garlic cloves, minced
125 ml olive oil
1 salt and freshly ground pepper
250 ml Sauvignon Blanc or other dry white wine
1 stick or 1/2 cup cold unsalted butter, cubed
1 lemon plus more for serving
4 250gm salmon fillets
Directions
Preheat the grill. Remove the fronds from the fennel and reserve. Slice the fennel bulbs into wedges.

Place the onion and garlic on a foil-lined baking sheet. Toss with 1/2 cup olive oil and a bit of salt. Grill until well-charred, about 15 minutes. Lower oven temperature to 400/F(200 C).

Place the fennel wedges on a foil-lined baking sheet. Drizzle with olive oil and sprinkle with salt and pepper. Roast until starting to soften and brown, about 20 minutes.

While the fennel cooks, pour the wine into a saucepan. Bring to a boil, reduce to a gentle simmer and reduce by half, about 10 minutes. Add the charred onion and garlic to the pan and stir to combine. Over low heat, whisk in the butter bit by bit, taking care not to let the mixture boil. Remove from heat and stir in salt, pepper and lemon juice to taste.

Remove pan from oven and move fennel to one side. (If fennel is done to your liking, remove it from the oven and transfer to a warm spot.) Add the salmon fillets skin-side down. Sprinkle with salt and pepper and drizzle with olive oil. Roast salmon to desired doneness, about 12 minutes for medium-rare or an internal temperature of 120/F (50C). While the salmon cooks, roughly chop the reserved fennel fronds.

Spread a quarter of the charred onion sauce on each of four dinner plates. Top with the roasted salmon, skin-side up, and garnish with the fennel fronds. Add a quarter of the roasted fennel wedge to each plate. Serve lemon wedges on the side, if desired.
Recipe featured in Wine Spectator magazine - recipe by Jorge González.