Rich Roast Chicken with Chicken Bread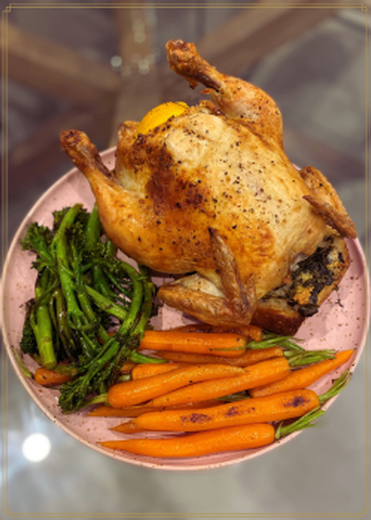 Ingredients
1.25kg free range chicken
1 lemon
1 head of garlic, cloves peeled and crushed
80 g butter
1 good quality sourdough loaf
3 handfuls mixed fresh herbs (we used basil, thyme and oregano)
125 ml extra virgin olive oil
1 large potato
Directions
Preheat the oven to 200°C and line a roasting dish or baking tray with baking paper.
Place the whole lemon inside the cavity of the chicken. Mix half the crushed garlic with the butter and slide the garlic butter under the chicken skin on the breast and thighs. Smooth the skin to distribute the butter evenly.
Cut the sourdough loaf in half horizontally (setting the top piece aside for another use). Slice the potato into thin discs (about 7mm) and arrange together in the base of the prepared baking tray for the bread to sit on top of. Place bread on top of the potato, tear over the herbs and sprinkle with remaining crushed garlic. Drizzle with half of the olive oil and season.
Lay the chicken on top of the bread, drizzle with remaning olive oil and season generously with salt and pepper. Transfer to oven and cook for 30 minutes, then reduce temperature to 160°C and roast for a further 40 minutes or until the chicken is cooked through. Remove from the oven and cover loosely with foil to rest for 20 minutes.
Remove the lemon from the chicken and carefully cut into large wedges. Serve the roast chicken with a generous slice of golden chicken bread, a roast lemon wedge, and your choice of vegetable sides. (We like to serve it with buttered baby carrots and broccolini, and charred roast cabbage wedges).
Adapted from a recipe by chef Colin Fassnidge