Phil's Goan Beef Curry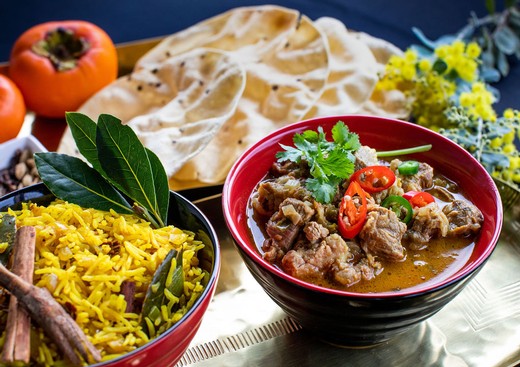 Recipe Date:
6 September 2020
Ingredients
1 kg stewing or braising beef, cut into 2.5cm cubes
vegetable oil, for frying
2 red onions, peeled and finely chopped
2 tomatoes, skinned, deseeded and finely chopped
4 fresh green chillies, finely chopped
2 tbsp finely chopped fresh coriander leaves
4 dried red chillies
10 peppercorns, finely ground in 1 tbsp vinegar
2.5cm piece of fresh ginger, peeled and grated
1 /2 tsp cumin seeds
1 /2 tsp turmeric powder
salt
Directions
Quite a few years ago, Nina, Viv and Phil's daughter, returned from her UK travels with a delightful cookbook for Phil from the celebrated, slightly eccentric might we add, English celebrity chef Keith Floyd. Keith was a cook, restaurateur, television personality and 'bon viveur' who sadly passed away in 2009.

His legacy lives on in many of his dishes and one in particular in the Snowden household - his delicious Goan Beef Curry. When we asked Phil what he loved to eat with his namesake he immediately offered up this wonderful dish...spicy but matching brilliantly with the silkiness of the Cabernet. Let us know if you try it?
Method
Heat some vegetable oil in a large frying pan and stir-fry the onions, tomatoes, green chillies and coriander leaves for 5 minutes.

Add the red chillies, peppercorn mixture, ginger, cumin seeds and turmeric powder and stir-fry for about 2 minutes.

Add the meat and stir until it is browned, then add about 1 cup of water, cover the pan and cook until the meat is tender - about 30 minutes. Season to taste with salt and serve with rice.