Parry's Beach Salmon Patties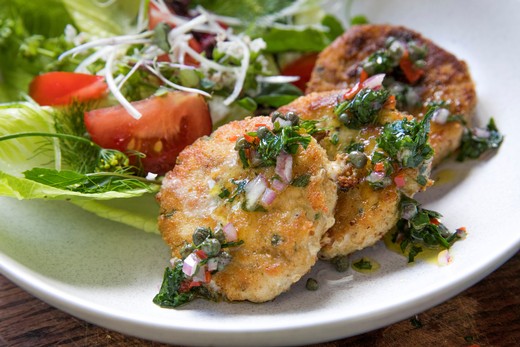 Ingredients
1 Australian salmon filleted - discarding bones, skin and red flesh
1 Small bunch of dill, roughly chopped
1 cup parsley, roughly chopped (for patties)
1 dash of Tabasco
1 finely grated rind of 1 lemon
1 juice of ½ a lemon
2 eggs
1 -1½ cups breadcrumbs
salt and pepper
1 /4 red onion, finely diced (for salsa)
1 red chilli, de-seeded and finely diced (for salsa)
1 clove garlic, finely diced (optional) (for salsa)
1 /2 cup chopped parsley, finely chopped (for salsa)
1 small bunch of dill, finely chopped (for salsa)
2 heaped tablespoons baby capers (for salsa)
1 /4 cup lemon juice (for salsa)
1 /4 cup olive oil (for salsa)
1 pinch of sugar (for salsa)
1 pinch of salt (for salsa)
Directions
We thank Anna Gare for sharing this delicious recipe with us and of course the very talented Nic Duncan for the gorgeous photo.
To make the patties, roughly chop the salmon and put into the food processor with everything except the breadcrumbs. Pulse on and off until a nice minced consistency.

Roll into balls and gently squash down to make patties.

Pour breadcrumbs onto a plate and lightly coat patties.

Fry for a couple of minutes each side until golden. If cooking in batches, just keep them warm with silver foil.

For the salsa, put all the ingredients into a bowl, stir and taste for balance of flavours. If it's too sharp add a little more sugar or olive oil to tone it down; if it needs more zing add some lemon juice.

Serve with fresh garden salad. So easy and so delicious.